Press release
11/02/2021 10:00 CET
The Building team successfully completed the Outernet London project, a new immersive entertainment venue, set to help reinvigorate London's iconic Denmark Street music scene.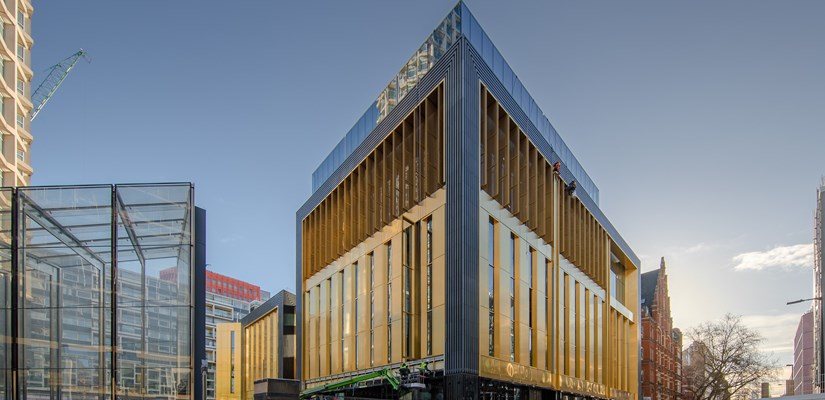 Work began in 2017 to deliver the first global Outernet project for our customer, Consolidated Developments, who has plans to build other similar venues in Los Angeles and New York. The development boasts the world's largest high-resolution wrap-around screens with a live events space for up to 2,000 people, plus retail, office and residential space across four new buildings and a number of refurbished existing buildings.
From the beginning of the project, the team tackled some significant challenges; from the close proximity of the building's foundations to the Eastbound Crossrail tunnel and Tottenham Court Road Underground Station and Northern Line, to safe shutdown and reopening of the site to quickly put COVID-19 measures in place.
In 2019, the team faced its biggest technical challenge: constructing the roof of the auditorium within the basement of a central London site. They worked closely with supply chain partner, Severfield, to lift the 400-tonne steel and concrete roof into its final position eight metres high, using 14 75-tonne jacks. After this, 70 perimeter columns were installed underneath so that the roof could be carefully released from the jacks onto the permanent columns. In visual terms, it is like building a giant ship in a bottle.
Paul Roberts, Project Director, commented: "Everybody that has worked on and been involved in delivering this demanding project should be extremely proud of themselves.
"This is the most technically challenging project I have worked on and it demonstrates that our supply chain is integral to delivering outstanding projects like this one: if we hadn't been able to work together seamlessly to find innovative solutions to some of the challenges we faced, we wouldn't be able to deliver such high standards for our customer."