Press release
29/03/2021 15:00 CET
Civil Engineer Lee Harman named amongst 25 most successful senior level executives in the UK who are working part-time.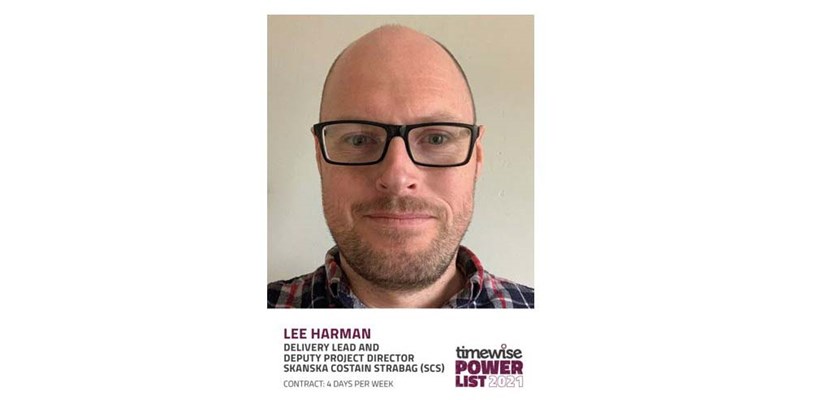 Lee Harman, a civil engineer working on our Skanska Costain STRABAG joint venture, has been included in the Timewise 2021 Power List - a roll call of 25 of the most successful senior level executives in the UK, who achieve everything they do whilst working part-time.
The power list - which challenges the belief that part-time work cannot mean ambitious, highly successful, or senior - is compiled annually by Timewise, a social consultancy, that aims to create a fairer flexible workplace for all. After hearing from hundreds of people nationwide, the judges compiled a list of 25 deemed to be the most outstanding. This is the first year in which every single person on the list has either been hired into their top job on a part-time basis, or has achieved a significant promotion since working part-time.
Lee, who is responsible for leading the delivery of c.£700m worth of construction works at Euston Approaches at our HS2 Main Works project, started the role in February 2020 and chose to work four days a week so that he could keep his energy levels up and spend more time with his children whilst also showing them that their mum, a lawyer, and dad have equal work and family responsibilities. His wife Louise also works four days per week.
Lee said: "With support from my line management and the wider team, I was able to switch from a five to a four day week and utilise the flexible working policies available to me without impacting my career progression. The construction industry is typically male-dominated, with long hours and little flexibility. However, this is changing, especially during the Coronavirus pandemic, with better work-life balance and improved flexibility both on and off construction sites which has been supported by leadership."
Find out more about Lee's story from his BBC interview.
Harvey Francis, Skanska's Executive Vice President, commented: "I'd like to congratulate Lee on being featured in the Timewise Power List. It's hugely important to me that our people feel supported in building their careers here at Skanska and make the most of our flexible working policies.
Lee is a fantastic example of how working patterns outside of the traditional norm can be successfully accommodated in the construction industry, helping our people to strike a good balance between their work and home lives."
In addition to the power list, Skanska is working with Timewise, together with Build UK, on an industry pioneering programme to explore how to build a better work-life balance in the construction industry. The programme involved pilots which Skanska hosted on our HS2 Main Works project as well as pilot projects from Bam Construct, Bam Nuttall and Willmott Dixon, looking at roles which are typically seen as jobs that cannot be done flexibly.
The industry report will be published in May and the insights from the trial will help understand the industry's structural issues and barriers around flexible working and highlight flexible working solutions for those 'hard to flex' roles. It will also demonstrate the overall wellbeing and productivity benefits of flexible working, helping to tackle the long-hours culture and make the industry more inclusive and attractive to everyone.