Press release
04/05/2021 12:30 CET
Skanska has completed construction of a landmark six-year programme to deliver world-class, sustainable training facilities for the Armed Forces in Hampshire.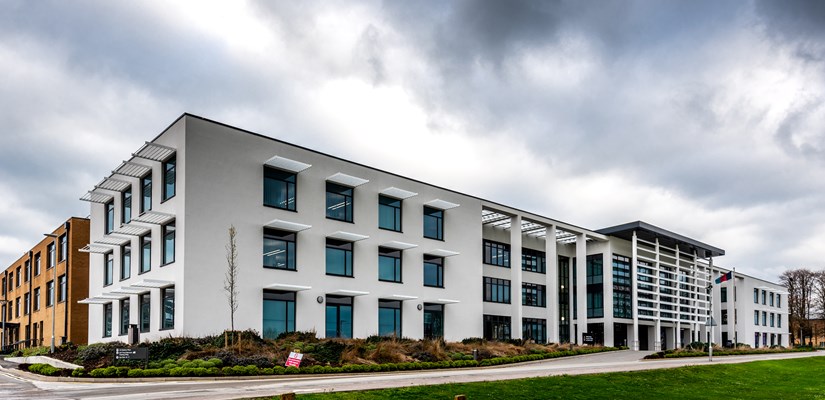 The works, carried out at Worthy Down on behalf of the Defence Infrastructure Organisation (DIO), are a major development in the Ministry of Defence (MoD) strategy to modernise the Defence estate to upgrade facilities for service personnel.
As part of the comprehensive £250 million programme, Skanska constructed 26 new buildings, alongside the refurbishment of existing facilities. The buildings, designed by HLM Architects, ranged from a state-of-the-art learning environment at the Defence College of Logistics, Policing and Administration, medical and dental facilities to upgraded single living accommodation for more than a thousand people. Skanska completed fit out of the buildings, providing mechanical and electrical engineering and public health services to deliver spaces boasting smart design centred around the user, maximising daylight, ventilation and temperature control.
Design for manufacture and assembly (DfMA) was a key feature of the programme's efficiency and saw offsite manufacture of components that were then assembled onsite; to achieve smoother programme delivery, enhanced quality, and reduced carbon emissions. This included over 800 bedspaces and a wide range of prefabricated site features – including energy centres, plant rooms, manholes, lift shafts, boiler rooms, windcatchers and metal roof trusses.
Smart design coupled with innovation in construction and Skanska's extensive sustainability expertise saw the programme save thousands of tonnes of carbon against the original design. Use of solar technology produces the equivalent to powering 133 domestic properties for a year, contributing 10 per cent of renewable energy for the entire site.
"Worthy Down is a project that we're really proud of," said Katy Dowding, Skanska's Executive Vice President. "Significant use of modern methods of construction, along with our collaborative approach as a strategic Defence partner has delivered high-quality, futureproof facilities for our Armed Forces to live, learn and work.
"The project is also an exemplar for sustainable Defence facilities. It underlines our commitment to leading the industry in finding new ways to deliver excellent spaces while driving down carbon – with no compromise on quality and programme delivery – as this approach is intrinsic to our teams and suppliers' way of working."
Matthew Richardson, DIO's Principal Project Manager, said: "The completion of Worthy Down is a fantastic milestone for both DIO and Defence personnel.

"These modern new facilities will provide an excellent environment for service personnel from many parts of Defence to train and it demonstrates MOD and DIO's commitment to provide the best infrastructure for our Armed Forces.

"We are also incredibly proud of the site's environmental credentials. As well as incorporating wildlife habitat support features - such as bat homes and natural wildflower landscapes, the solar generation panels on the new buildings will support the site in running as efficiently as possible and help reduce our carbon emissions, contributing to the Government's Build Back Greener targets."
Work on the programme began in 2014 to provide a single solution to meet the combined training and operations needs of service personnel based across Worthy Down, the Princess Royal Barracks, HMS Raleigh and at RAF Halton. The site remained operational throughout works, continuing to deliver training throughout the development.
It is part of Project Wellesley, where Skanska is also working to transform Defence estate land formerly home to the Princess Royal Barracks into Mindenhurst – a new village that will offer more than 1,200 homes with a new school, shop and pub.