Press release
23/06/2021 12:00 CET
Skanska's flagship London office has set the standard in sustainable workspaces by becoming the first in the UK to achieve WELL Platinum under the new v2 pilot scheme.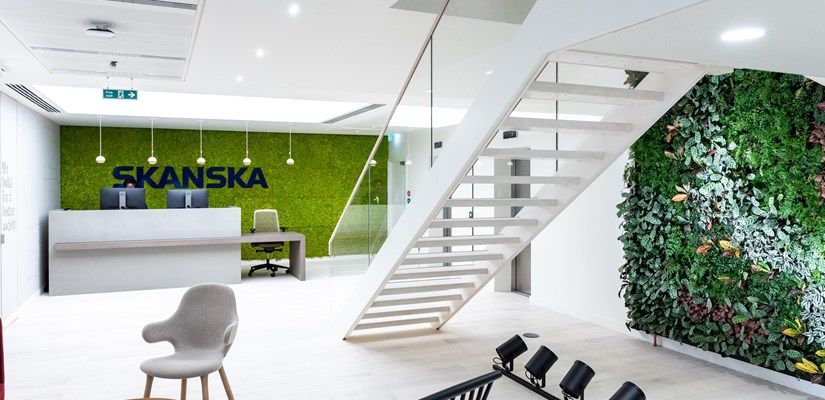 The accreditation from the International WELL Building Institute (IWBI) was awarded through the v2 pilot, the newest version of the WELL Building Standard. It looks at all building features and management processes – from air and water quality to lighting, acoustics, nutrition, thermal comfort and mental wellbeing. It's widely recognised as the industry yardstick for measuring how workspaces can contribute to the wellbeing of occupants.
The offices – which span three floors of the newly developed 51 Moorgate – boast floor-to-ceiling windows for extensive natural light, dedicated wellbeing and quiet spaces, as well as stringent air and water quality monitoring, among a range of other features that have helped earn the standard.
The space has also achieved WELL's Health-Safety seal for facility operations and management, a rating that demonstrates the environment has everything in place to protect occupants and visitors. Informed by experts from the COVID-19 taskforce, the rating considers measures reducing transmission risk, as well as other long-term health and safety features in addition to coronavirus.
Katy Dowding, Executive Vice President, Skanska UK said: "By putting people at the heart of a building – in design, construction through to facilities management – we can help tenants and occupiers to feel healthier, happier and more productive.
"We're proud to build on our track record of leading workplace excellence – our work on The Marq saw the building become the second in the UK to achieve WELL Gold standard, and now 51 Moorgate has become the first office in the UK to be certified as v2 Pilot Platinum, it's among ten WELL standard projects delivered by Skanska across Europe and the Nordics. The award is an important mark of the high quality, sustainable facilities and know-how we can offer our customers through our global knowledge and expertise."
"Our relationship with offices has changed rapidly since the pandemic begun," Harvey Francis, Skanska's Executive Vice President added. "It has underlined the importance of not just being COVID-secure and safe, but for modern workspaces to be more flexible, sustainable and support collaboration. As we see a continued evolution in the blend between office and remote working, our flagship office will offer the best working experience for our employees to thrive."
Skanska completed refurbishment of the 45,000sqft (4,180sqm) commercial building in the heart of the City of London in 2019, saving 43 per cent of total carbon emissions by reusing and retaining its existing structure and substructure. There is circa 25,000sqft office space available and one A1/A2 retail unit within the building.