Press release
09/08/2021 12:00 CET
This key milestone has been achieved by our Costain Skanska JV team that has worked to deliver this important new station for London.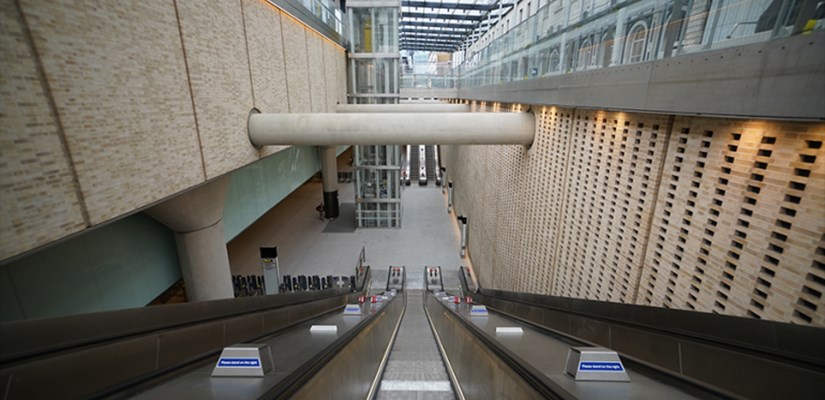 The Paddington Elizabeth Line station is the sixth of ten new stations to be transferred to Transport for London. Our Costain Skanska joint venture (CSJV) has been responsible for delivering all key elements of the station including the main building and structural works.
The team, which at its peak employed around 650 people per shift, also completed highways and traffic management works, installed system wide communications equipment and materials, delivered mechanical, electrical, fire and public health works as well as landscaping, site restoration and urban realm improvements.
Early on in the project, Cementation Skanska completed piling and foundations works.
James Moloney, Project Director, Costain Skanska joint venture said: "Achieving this key milestone is testament to the dedication and hard work of everyone who has been involved as part of our Costain Skanska JV team. It's a complex project that has been delivered during COVID-19 restrictions. Our teams have responded to the challenge, with the handover to TfL testament to the efforts of the many people involved in delivering this important new station.
"The Paddington Elizabeth line station will be a key part of London's transport infrastructure for generations to come, helping people to travel sustainably into and around this amazing city. We continue to remain focused on working collaboratively to deliver the final elements of the scheme."
The Elizabeth line will help transform life and travel in London and the south east by dramatically improving transport links, providing additional capacity and transforming accessibility with spacious new stations and walk-through trains. The new railway will be crucial to London's recovery from the pandemic, helping avoid a car-led recovery by providing new journey options and will support wider regeneration, creating jobs, business opportunities and providing a huge economic boost. It will also connect London's major employment centres and increase central London rail capacity by 10 per cent.
Mark Wild, Crossrail Chief Executive, said: "I am delighted that Paddington Elizabeth line station has been transferred to Transport for London. This beautiful new station will provide a gateway for those travelling from the Thames Valley or Heathrow into central London and beyond, providing greater transport links, better job opportunities and a significant economic boost.
"Over the past months we have entered the Trial Running phase, starting with four trains per hour and have now reached 12 trains per hour through the central tunnels and six of our central section stations are now safely in the hands of TfL. There is still a tremendous amount of work to be done but the railway remains on track to open next year."