Press release
20/08/2021 10:00 CET
Skanska and its customer, Zurich Insurance, celebrated reaching the highest point of its new sustainable office building with a topping out ceremony.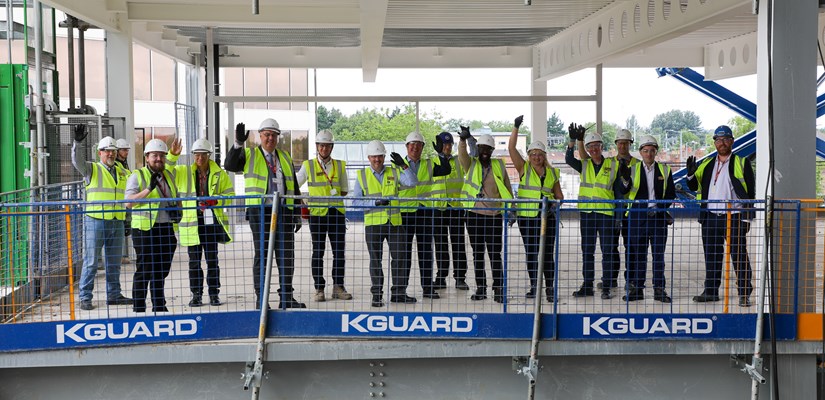 They held a rooftop ceremony together with the pouring of the final area with concrete, unveiling a special plaque to mark the occasion.

The building will provide around 100,000 sqft of office space over six floors, with a terrace and a function space at roof level. Skanska has already completed the specialist piling and ground engineering and following completion of construction, will install the mechanical, electrical and public health services, before the building is handed over in the summer of next year.

Sustainable methods being used are set to reduce the carbon in construction emissions by more than 86 per cent. Here are some examples:
Using WyseBase – a modular recycled plastic block system for the site office foundations that replaces concrete.
Replacing fossil fuels with Hydrated Vegetable Oils (HVOs) for plant and equipment, reducing carbon and Nitrogen Oxide (NOx) emissions.
FSC/PEFC certified timber is being used for the project. This means the origin of the timber can be monitored to make sure it is always sustainable.
Energy efficient combined heat and power units are being used to reduce the operational carbon emissions.
When the building is finished, occupants will benefit from:
Energy efficient, low-powered LED lighting throughout the building.
Water efficient fittings, such as low-flush toilets and aerated spray taps, reducing water consumption.
Solar controlled glazing, including automatic blinds, helping to maximise the amount of natural light entering the building.
Charlie Norris, Operations Director, commented: "From the beginning Zurich has had high standards for their new workplace and I'm proud we have forged a strong relationship so we can fully understand their needs and meet their expectations.

"By involving our experts experienced in every phase of the project – from specialist piling, through to construction and the mechanical and electrical fit-out, we've been able to develop solutions at every stage tailored around their ambition for a futureproof HQ that will offer a high-quality space for their teams to be happy, healthy and productive. When finished, Unity Place will set the standard for sustainable buildings in Swindon."

John Keppel, UK COO, said: "It is fantastic to be celebrating this construction milestone and to see our new development approaching completion. The team has worked tirelessly to deliver our bespoke requirements and we are very much looking forward to moving into our new, sustainable workplace next year. Unity Place will be a building that we can be proud of because it will help to protect the environment, as well as enhance the wellbeing of the people who use it."