Press release
25/08/2021 09:30 CET
Cementation Skanska apprentice has achieved the highest grade in the UK's first piling apprenticeship assessment.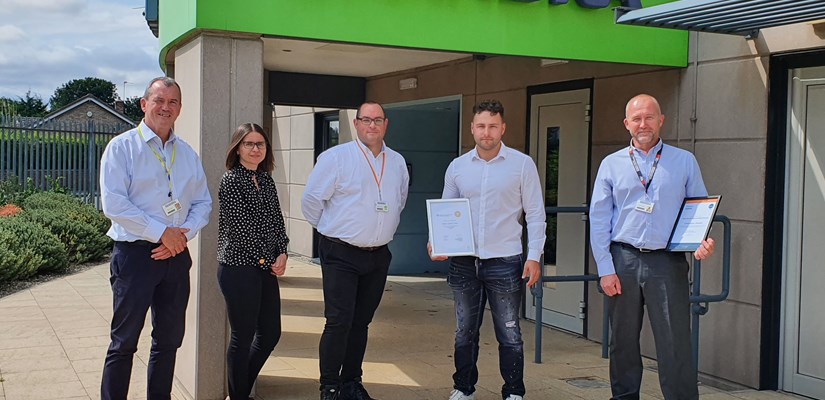 Spencer Taylor from Cementation Skanska is the first piling apprentice in the UK to complete the 'trailblazer' piling apprenticeship with the highest grade of Distinction.
The two-year trailblazer programme is 65 per cent site-based learning combined with a college placement and technical tests. The programme culminates with an End Point Assessment (EPA) – a seven-hour practical assessment and interview to demonstrate skills, knowledge and competence.
Spencer joined the Cementation Skanska apprenticeship programme having known a family member who had been involved with the industry for years. The ability to learn new skills, work with new people and in different parts of the country attracted him.
Commenting on the course Spencer said: "I'm very proud of what I've achieved over the course of my apprenticeship and being the first is a bonus.
"I would not have been able to finish the apprenticeship without the help of all my colleagues and supervisors at Cementation Skanska. Learning from their knowledge and experience has been priceless."
Unlike conventional piling apprenticeships, the Government's 'trailblazer' scheme follows new standards that have been developed by employers in the sector. An appointed End Point Assessor ensures the apprentices achieve these standards through assessments.
Thomas Burton, Group Director for Apprenticeships at NOCN Group, the appointed End Point Assessor, says:
"NOCN Group is extremely proud of the achievement of Spencer within the Piling EPA. Having employers such as Cementation Skanska supporting the apprenticeship programmes ensures that the future of the construction sector remains in a positive position."
Mark Watkinson Cementation Skanska Site Training and Apprenticeship Manager, said:
"We are extremely proud of what Spencer, and all of our current cohort of apprentices has achieved. Spencer is the first of our apprentices to complete these new assessments and become a multi-skilled, qualified and hard-working piling operative.
"I'm sure the skills and knowledge he now has will see him progress within Cementation Skanska and the piling industry."