Press release
30/09/2021 14:00 CET
Skanska, with its customer Nord, celebrated reaching the highest point of construction with a topping out ceremony.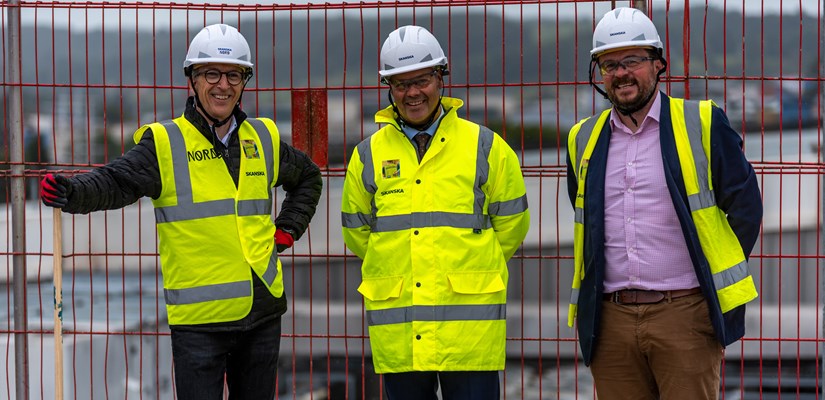 The rooftop ceremony was marked with the Scandinavian good luck tradition of flying a fir tree over the building by tower crane, together with the start of the roofworks..
The building will provide 33,750 sqft of category A office space, together with a large, landscaped square and will be located close to Temple Meads Railway Station. Skanska's team of experts will install the mechanical electrical and public health services.
With an emphasis on energy efficiency and sustainability, the scheme will be built to a BREEAM Excellent accreditation, as well as an EPC rating of A. Additionally, the building will achieve a WiredScore and Cycling Score Certification Platinum in recognition of its commitment to outstanding connectivity and exceptional cycling amenities.
Designed by architects AHMM, the building uses in-slab cooling, and will be the first office building to use this system in Bristol. It pumps cooled water through pipework installed in the floor slabs. The building will also connect to Bristol's low carbon district heating network, currently being installed.
Richard Jones, Nord founder, said: "Working closely with our architects and engineers we've designed One Portwall Square with occupiers in mind. Our aim is to deliver new standards in innovation, post-COVID occupant amenity and office design, combining modern and flexible floorplates with generosity of space and light. One Portwall Square blends contemporary architecture with an outstanding specification to provide an inspiring and adaptable working environment that sets a new standard for offices in Bristol."
Charlie Norris, Project Director, commented: "One Portwall Square's focus on user wellness will be achieved by incorporating a range of features such as excellent cycling and changing facilities and large outdoor terraces on all upper floors. A south-facing square will provide a tranquil area, helping to improve and support people's physical and emotional wellbeing by providing an outdoor space where they can take time out of their busy workdays to unwind and relax."
The simple yet innovative mixed-mode heating and cooling system which only uses fresh air, together with the natural ventilation enabled by the opening windows gives tenants the ability to engage with their workplace environment to create a well ventilated, healthy and comfortable internal space.
For more information, please visit: https://www.skanska.co.uk/expertise/projects/250275/One-Portwall-Square/?Query=one%20portwall%20square