Press release
09/11/2021 14:30 CET
Skanska has collaborated with partners on the Hope Sculpture, which symbolises how the construction industry can build more sustainably for a net zero future.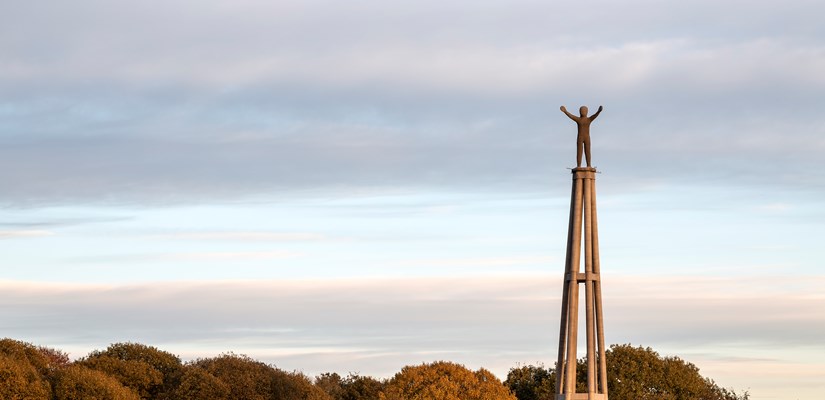 The Hope Sculpture is the centre piece of three public art installations by Steuart Padwick located across Glasgow. Each sculpture has been constructed using low carbon, reclaimed, recycled or sustainable materials, of which, almost all have been locally sourced. It is a showcase of how industry, organisations and people are committed to build more sustainably, as we transition to a net zero future.
At 20m high, the monumental Hope Sculpture represents a beacon of hope and positivity towards reaching global environmental milestones. It's located in Clyde Gateway's woodland park at Cuningar Loop and is an official part of the COP26 legacy.
The sculpture is made from 100% cement free concrete incorporating locally sourced aggregates. On top of the columns is an age, gender, race neutral child, embracing the surrounding nature and is reaching out to a greener, hopeful future. It too is constructed using 100% cement free concrete and recycled crushed glass. Hidden from view, but significant also to the carbon impact of the build are re-claimed steel gas pipes used for the piling and recycled rebar, all contributing to the Hope Sculpture's huge 75% lower carbon impact.
Skanska President and CEO Gregor Craig, said: "The Hope Sculpture symbolises how we can drive positive change by working collaboratively across the industry to decrease carbon on a large scale. By using sustainable and reclaimed materials this sculpture will leave a lasting legacy from COP26 and sends a strong message about protecting our environment and our own mental health."
Paul Cole, Chief Engineer at Skanska, said: "Over 50 companies collaborated to deliver the sculpture, with a key focus on ensuring all elements were delivered safely and that methods to reduce carbon were at the heart of the project.
"Skanska's involvement was to provide engineering support through temporary works design and constructability reviews. We gave confidence that the inclined columns could be constructed safely and accurately. We also offered guidance on the systems and materials to be used and worked with Cementation Skanska and Rapid Metal Developments (RMD) to deliver what was needed for the project."
David Taylor, Cementation Skanska Business Development Manager, added: "Our fabrications team worked with the engineering team to create a 'bolt cluster support jig' – a steel frame that was used to accurately locate and control the orientation at the base of each of the inclined columns. With an inclined angle of only 4 degrees, our team at Bentley Works in Doncaster were able to precision fabricate and transport the steel jig to site."
The project, supported by Glasgow City Council is part of the official COP26 legacy. Linking our built environment with improved mental well-being, Padwick has worked with Mental Health Foundation on all messaging. Words of Hope have been written by some of Scotland's favourite voices, writers, and poets as well as local school children. These words have been inscribed directly onto all the sculptures.