Press release
16/11/2021 08:30 CET
Our team of digital experts will be presenting our latest innovations, products and services at Digital Construction Week at London's ExCeL on 24-25 November.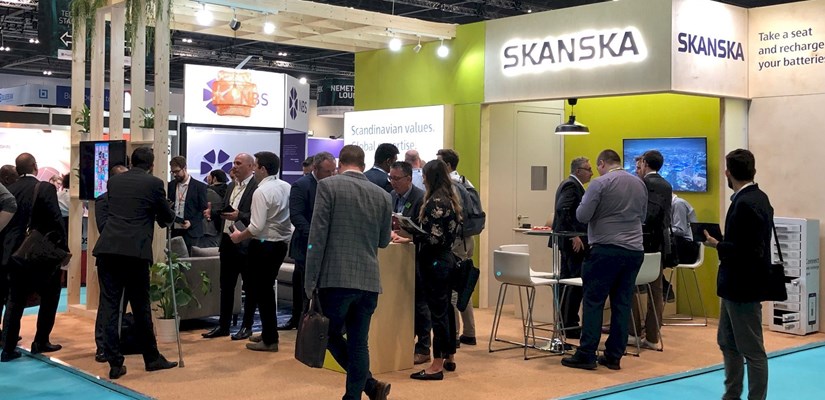 Digital Construction Week is the UK's only event dedicated to digital construction, engineering, design, manufacturing and operation. It is taking place over two days on 24-25 November at London's ExCeL and is expected to attract around 6,000 visitors from across the industry.
Join us on stand B80 to meet our team of digitalisation experts and find out how we're using digital to increase productivity and deliver better, faster, safer and more sustainable projects for our customers.
Over the two days we'll be showcasing some of our latest innovations, products and services in the areas of BIM, survey, GIS and information management.
This year's show includes over 120 free-to-attend sessions delivered by expert industry speakers, including the following highlights from Skanska:
Day 1 - Wednesday 24 November
Digital construction on Europe's biggest project
Dr. Anita Soni, Deputy Head of BIM and Tom Boland, Head of Digitalisation at Zutec
How digitalisation can support our journey to net zero carbon
Scott Milner, Head of BIM (Infrastructure) and Chris Hayes, Head of Environment
People and change: Creating a culture for digitalisation (panel discussion)Featuring Skanska's Head of Emerging Talent, Nick Ingram
Digital collection, validation and management of operational data at point of construction
Scott White, BIM and Digital Engineering Manager, Jason Hows, BIM Manager and Oliver Hart, BIM Technician
Towards a GeoBIM strategy for transportation infrastructure
George Floros, GIS Lead and Dr. Anita Soni, Deputy Head of BIM
Let's talk smart buildings
Thomas Gould, Head of Digital Solutions and Craig Ridout, Project Manager
Day 2 - Thursday 25 November
Just enough time to modernise or die (panel discussion)
Featuring Skanska's Digitalisation Director, Felipe Manzatucci
Business value of innovation management – theory to practical implementation
Vaibhav Tyagi, Head of Innovation and Rahul Shah, Sector Development Director EMEA, Built Environment, BSI
How technology and standards work together for successful BIM implementation (panel discussion)
Featuring Skanska's Head of Digital Construction, David Throssell
Excavation recording using photogrammetry
Paul Nicholls, Utilities Data Manager
Skanska Data Academy – finding and developing our Digital Stars
Nick Ingram, Head of Emerging Talent and Cameron Bishop and Zanna Casement from Multiverse
To view the full programme and to register for your free ticket, visit the Digital Construction Week website.