Press release
25/11/2021 10:17 CET
Skanska UK has participated in a ground-breaking programme to tackle the under-representation of young Black men in construction.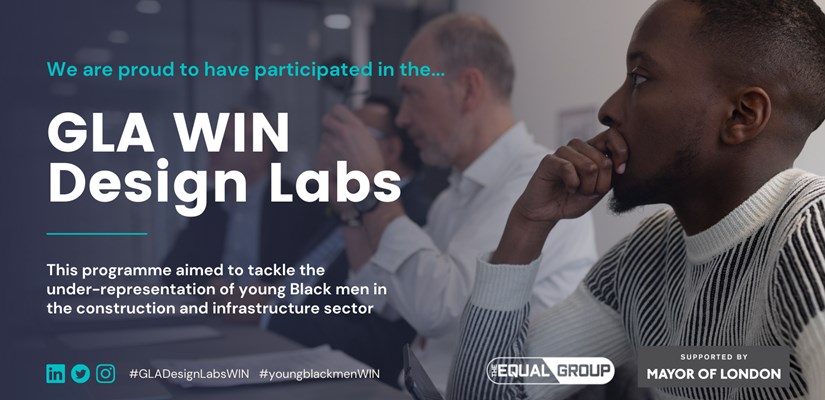 The six-month programme coordinated by the Greater London Authority (GLA) is part of the Mayor of London's strategy for social integration to improve pathways for under-represented groups in the workplace.
Skanska UK has been a part of this programme, working with The Equal Group and other construction companies for the last six months to get more 18–24-year-old Black men into construction. At around 33%, young Black men face some of the highest unemployment rates in London, compared to 15% for White men. Young Black men make up just 4% of young men in construction, whilst they make up 18% of young men in London overall.
A feature of the programme was to participate in a three-day recruitment event to showcase Skanska, alongside other companies, as an attractive employer and advertise our Emerging Talent opportunities and career pathways in construction. Several Skanska people spoke at the event including:
Isaac Mboyo (Apprentice Multi-Skilled Operative)
Miriam Dookie (Quantity Surveyor)
Luke Busette (Senior Project Manager)
Jackie Anyango (Customers and Markets EDI lead)
Ian Valentine (Project Director)
Isaac Mboyo, 27, works at London's Barts Hospital as part of the facilities services team and is currently being sponsored by Skanska towards his Building Services Engineering NVQ Level 3. "These types of events are very important in terms of raising awareness of opportunities with companies like Skanska," he says.
"It can be difficult for young Black men to get into these trades because they often don't have that existing connection. A lot of them don't have family members already working in these companies, so they don't get exposure to the construction industry itself.
"I've been given the option not only to study towards a qualification, but I'm also getting a career out of it. This is an excellent opportunity for me and events like this are really important because they make more people aware of the opportunities that are open to them."
Co-sponsors of the programme were two of Skanska UK's project directors, Ian Valentine and Mike Wells. "There was an incredible amount of engagement throughout the programme and enthusiasm to learn more about construction as a varied and exciting career pathway," says Ian. "It has been a very beneficial experience for everyone involved."
Mike adds; "This programme is just one of many initiatives underway to help us tackle the skills shortage currently being experienced across the construction sector by giving us better access to the widest possible pool of talent."
As part of the programme, a detailed action plan has been developed (high-level overview enclosed below) to increase the representation of young Black men in Skanska and demonstrate Skanska's commitment to attracting and retaining young Black male talent in the future.
Editor's note:
Isaac Mboyo and Ian Valentine are both available to discuss this topic further.