Press release
11/02/2022 17:45 CET
Our Skanska Costain STRABAG joint venture (SCSJV), working to deliver the London tunnels section of HS2, is one of the first construction sites in the UK to deploy a fully electric giant crawler crane.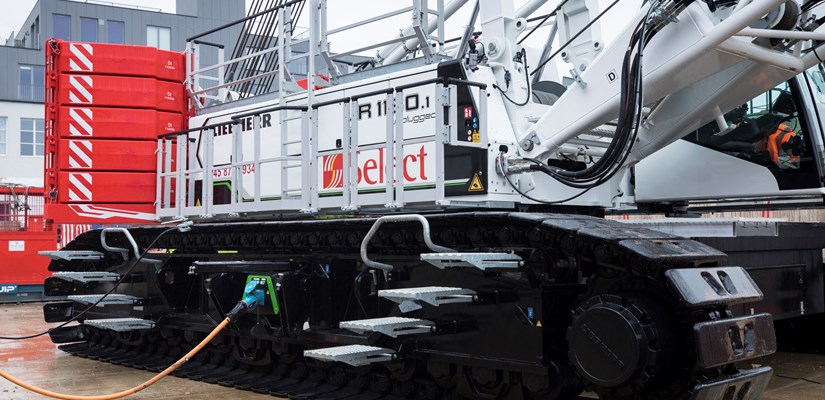 In total three of the cranes have been delivered to HS2 construction sites in London, with one coming to our Canterbury Road vent shaft site. They will cut carbon, improve air quality, and reduce noise, making sites cleaner and safer for workers and local communities.
Robert Lockwood, Air Quality Lead at our Skanska Costain STRABAG joint venture (SCSJV), says: "At SCS we want to make the transition to electric plant wherever possible in order to reduce emissions and noise, which is crucial for both the environment and the communities around our sites. To keep the momentum going, we're already looking to procure our second electric crawler crane for delivery in March 2022."
The use of electric crawler cranes allows us to move towards diesel-free construction sites, helping to decarbonise the construction industry and deliver on our net zero carbon emission target.
There are only five of these 100% emissions-free, giant Liebherr cranes in the world in use, three in the UK on HS2 sites. The other two are being used at HS2's Old Oak Common site run by the Balfour Beatty, VINCI SYSTRA joint venture.
HS2 Minister, Andrew Stephenson said: "HS2 is paving the way for greener and cleaner practices by working towards being net zero carbon from 2035, having diesel-free construction sites by 2029 and committing to trains running on zero carbon energy from day one.
"Having the UK's first fully electric crawler cranes begin work on HS2 is the latest step in making these commitments a reality and aligning the country's biggest infrastructure project with the Government's ambitions for a greener transport."
HS2 has announced that the project aims to be net zero carbon from 2035, with the target of achieving diesel-free construction sites by 2029. To achieve this, HS2 is collaborating with the industry and its supply chain to accelerate innovation in low carbon technologies, such as fully electric machinery, alternative fuels, and renewable energy solutions.
To find out more, visit https://bit.ly/33e0fCl