Press release
09/03/2022 09:30 CET
In celebration of International Women's Day on 8 March 2022 and Women in Construction Week, three of our female colleagues from Cementation Skanska share their journey into construction.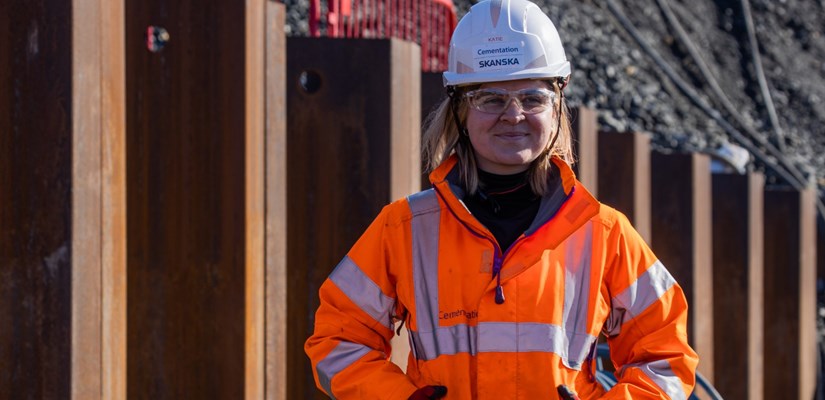 Today, Katie Gurney who is currently working on a piling scheme on the A1, shares her story:
How long have you worked in the construction industry?
I've worked in the construction industry for 3.5 years
Why did you choose to go into this sector?
I wanted to work in a dynamic environment and I knew I didn't want a job where I had to be at a desk all day. The construction sector gives a good balance of office and site.
What was your route into work?
I studied Geology at University and chose the geotechnical sector after working at a geotechnical/environmental consultancy for an Industrial placement in my 3rd year. I enjoyed the outdoors aspect to working in the geotechnical sector.
Why did you choose to work for Cementation Skanska?
Cementation Skanska was my first assessment centre in my last year of University and I accepted the role quickly. Skanska showed a promising side to the construction industry and helped me realise that I could be part of and help drive change in the industry.
How has Cementation Skanska supported and helped you in your career development?
I have been lucky enough to gain experience across Cementation through graduate placement rotations. These have given me a valuable holistic view of the Company and the wider industry and has increased my confidence and strengthened my network.
What responsibilities do you carry out on the A1 project?
I am part of the team managing the mine treatment works. My section of works involves five rigs drilling and grouting old coal workings to depths of 65m. These ground improvement works are for new bridge structures to widen the existing A1 carriageway.
What is it you enjoy about your job?
I enjoy the teamwork that working on a site brings, and overcoming challenges quickly and efficiently. Teamwork and communication are paramount on a busy site with multiple disciplines and working collaboratively is key. It's very suited to my outgoing nature.
Would you recommend women consider the Construction industry as a career option and if so why?
There is never a dull day in construction, so if you like a challenge and enjoy a fast-paced environment then Construction can lead to a great career. There is ever increasing diversity in Construction, and it would be great for more women to be a part of it.
Is there anything you would like to add?
Skanska and the people within Skanska value your development which provides great opportunities.