Press release
10/03/2022 10:30 CET
This week three of our female colleagues from Cementation Skanska are sharing their experiences of working in the construction sector and what they enjoy most about their roles.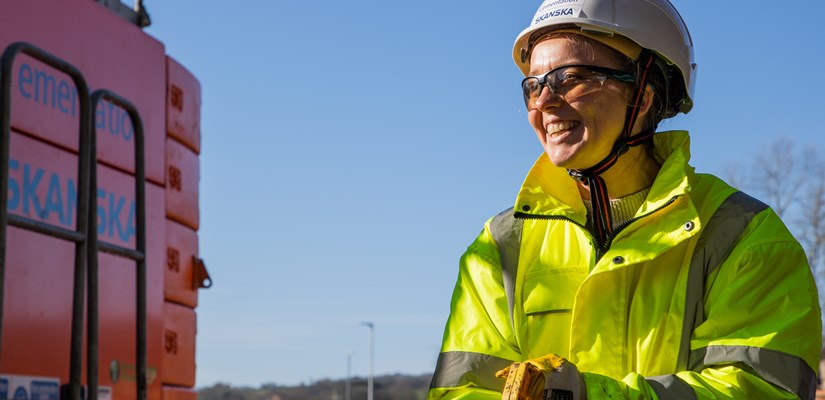 Today Lydia Widdicks, who is currently working on a piling scheme on the A1, shares her story:
How long have you worked in the construction industry?
I've worked in the industry for 5.5 years.
Why did you choose to go into this sector?
I've always had an interest in how things are built and also the natural world. Geotechnical engineering seemed like the perfect combination of these two things.
Why did you choose to work for Cementation Skanska?
I had undertaken placements at consultancies which made me realise I wanted to work on the contracting side and be in the middle of all the action!
What was your route into work?
After leaving school I studied Geology at the University of Bristol before starting a three year graduate scheme at Cementation Skanska.
How has Cementation Skanska supported and helped you in your career?
There are lots of opportunities available at Cementation Skanska and Skanska. Since joining from University they have supported me throughout my development, pushing me out of my comfort zone and recognising achievement.
What responsibilities do you carry out on the A1 project?
I'm managing a section of works that's involves the installation of rotary bored piles to allow the extension of an existing road bridge as part of the A1 improvement project.
What is it you enjoy about your job?
I enjoy the fast-paced nature and the variety it brings. I also love the wide range of people and personalities you meet, there is never a dull day!
Would you recommend women consider the Construction industry as a career option and if so why?
Definitely, there are so many opportunities and so many great projects to be involved in. There are very limited barriers to being a woman in construction and there are more of us than ever.
Is there anything you would like to add?
Skanska is a lovely place to work with a great culture and wonderful people.