Press release
11/03/2022 10:15 CET
In a week that has celebrated International Women's Day and Women in Construction Week, we've been highlighting just some of the incredible work that women are accomplishing in construction.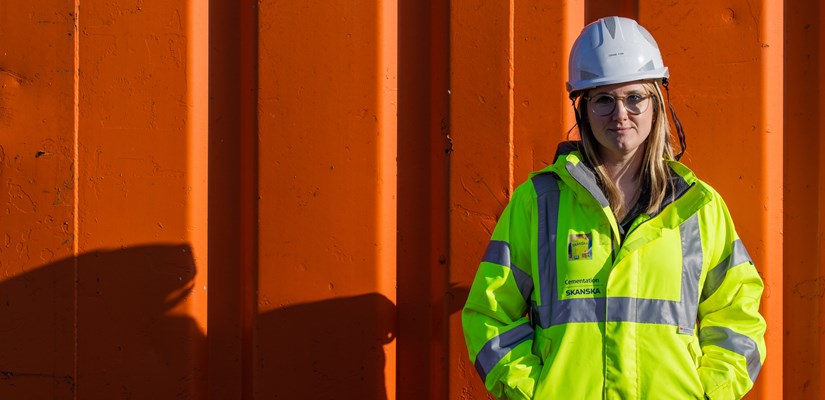 This week, three of our female colleagues from Cementation Skanska have been sharing their experiences. Today, Cassie Fysh who is currently working on a piling scheme on the A1, shares her story:

How long have you worked in the construction industry?
My career started in the industry 4.5 years when I joined Cementation Skanska.
Why did you choose to go into this sector?
I started looking into graduate programmes whilst studying for my MSc and the scheme offered by Cementation Skanska appealed to me.
What was your route into work?
Traditional University route, BSc at the University of Liverpool, a few years out and then my MSc at Newcastle University.
Why did you choose to work for Cementation Skanska?
I had two interviews, one with a large consultancy and one with Cementation. I immediately knew I'd be better suited working for a Contractor.
What role/responsibilities do you carry out on the A1 project?
We're installing piles up to 55m in length under polymer to facilitate widening of the A1. My role is to make sure this all goes to plan; that all documentation is place and materials scheduled, that we meet the quality and design requirements on every pile and that the team have all the tools and knowledge they need to achieve this. I also maintain all compliance records and keep the customer up to date with progress.
What is it you enjoy about your job?
I love the challenge and variety. I'd say that pretty much everyday I'm pushed out of my comfort zone, but I always like to reflect back and see how much Cementation and my colleagues have helped me achieve over the last 4.5 years.
How has Skanska supported and helped you in your career development?
I completed Cementation's graduate programme and was fully supported across all my placements. Cementation matched me with a Delegated Engineer who is currently helping me to reach Chartership and keeps me accountable.
The Project Director on the A1 scheme and my Line Manager both see opportunities for my personal development and make a point to include me or put my name forward, which means a lot.
Would you recommend the Construction industry as a career option for women, and if so, why?
100%. It's a very rewarding career and the industry benefits massively from having talented women be a part of it.
Is there anything you would like to add?
Hopefully my comments reflect how thrilled I am to work for Cementation Skanska. We have a strong value system at Skanska which feeds right through the business to individuals and makes it a very supportive and collaborative place to work.
Cementation is full of very clever, innovative and talented people who are always available to help you learn and grow. In my opinion this combination of values and technical excellence enable us win complex, interesting and high-profile contracts of which it's a privilege to help deliver on site.