Press release
10/05/2022 14:00 CET
Fabricated at Skanska's workshop in Doncaster, the 94-tonne main-span section of the A45 footbridge has successfully been lifted into position.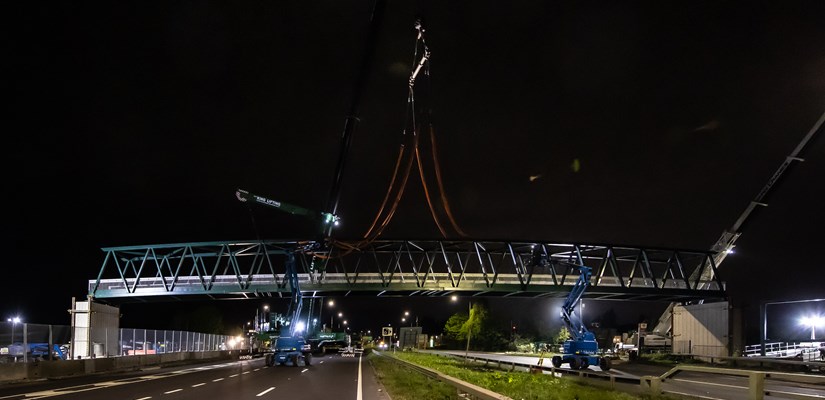 The A45 footbridge is the first structure to be built and installed on the M42 Junction 6 improvement scheme – the £282 million five-year project that Skanska is delivering for National Highways.
Skanska's fabrications team had input into the design, manufactured and installed the 62-metre single span footbridge with associated stairs and ramps, using over 350 tonnes of steel. A team of 50 people were involved in the project, from the initial design stage and throughout the manufacturing and installation process.
"It's been a really collaborative process, during which we have worked closely with our Skanska colleagues, National Highways and our supply chain in building this new bridge," said Jamie Dunbar, Cementation Skanska Business Director.
"The team were able to bring their extensive experience and deep technical excellence through all stages of the project. This includes our in-house design team who worked with the bridge design team to optimise the design solution whilst ensuring that carbon reduction remained a key target.
"The lifting capability within our workshops meant we could manufacture it offsite and then install on-site, which also improved quality and safety outcomes. The team has done a fantastic job and delivered a high-quality bridge, that has been installed safely and will I'm sure be enjoyed by local people for many years to come."
The delivery and installation process took four weeks, culminating in the use of a 750-tonne crane to lift the single span main assembly to its position over the carriageway during a two-day closure of the A45.
The footbridge is now a key feature of the scheme. It will improve connectivity for non-motorised users by facilitating access for people living in Hampton in Arden, Catherine de Barnes and Bickenhill onto the northern footway that runs along the A45 – the gateway to Birmingham Airport, The NEC, and Resorts World.