Press release
19/05/2022 10:35 CET
The internationally acclaimed Geospatial World Awards recognises exemplary practices in the global geospatial industry.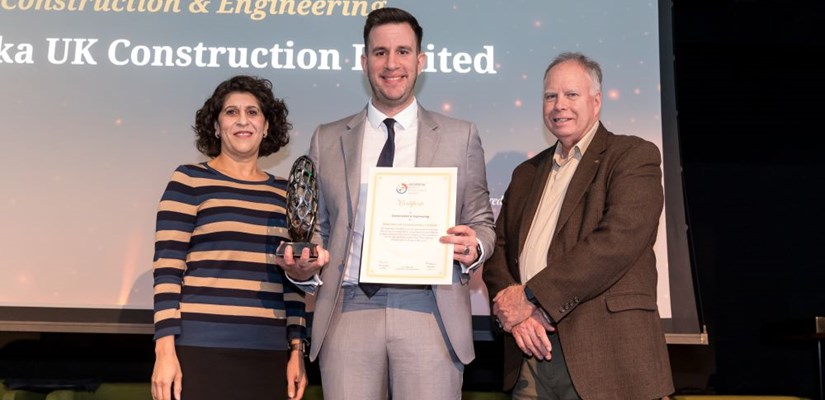 Skanska won the Technology Innovation Award in Construction and Engineering for Skanska GeoBIM, an easy-to-use geospatial digital platform that integrates a Geographic Information System (GIS) with Building Information Modelling (BIM) data from a project.
Skanska GeoBIM, which is easily accessible from a browser or mobile device connects data, disciplines and people. Users can overlay a multitude of information relating to construction, design, health and safety, environmental data, logistics routes, underground assets, land boundaries and live traffic data onto a map within the platform. This provides an overview of the project in context of the surrounding conditions.

The digital platform has evolved from an innovative concept into a user-friendly solution that is used by our highways and rail sectors.

GIS Lead and the creator of Skanska GeoBIM, Georgios Floros, who collected the award on behalf of Skanska, said: "Anyone who uses the platform can immediately understand the huge potential that is being unlocked by this – Skanska is a sector leader in this technology.

"Data that was only viewable via specialist software is now accessible to all, in under three clicks. The convergence of GIS and BIM helps us stay better connected in an ever-changing construction environment. These are exciting times."

"We are really thrilled to receive this award and I'd like to say a big thank you to the GIS team for their amazing work to embed it within our projects as well as our customer, National Highways and our colleagues who have supported this solution."

Simon Lawn, Construction Manager on the A428 Black Cat to Caxton improvements scheme which is delivered by Skanska on behalf of National Highways, talks about how the software is helping them: "Skanska GeoBIM is used to coordinate planning activities to ensure that clashes are detected, understood and dealt with in advance. Such as the planning of temporary site roads.
"We need to ensure we manage certain constraints when installing temporary site roads, such as archaeology or utilities that may be in the way. Being able to view them in the digital platform means we can easily look at the options and plan – either moving our site road around these restrictions or installing it once these restrictions are cleared. Another option may be to use protection over a utility if we cannot avoid it.

"There are many other layers of information that we can turn off and on to reference against such as site extents, land boundaries, land-owners, ecology surveys, public rights of way, temporary compounds locations, temporary works and various basemaps. The design information is also updated regularly."

The award is testament to our industry leading digital capability, collaborative approach and the benefits that can lead to embedding innovative ideas.
Lee Galloway, A428 Black Cat to Caxton improvements scheme Project Director at National Highways said: "Skanska GeoBIM has brought to life the digital version of the A428 Black Cat to Caxton Gibbet scheme.
"It is an innovative and effective tool for collaboration and provides the project team with insights to support managing the projects interfaces with other assets, including existing infrastructure and utilities as well as other projects in development. It is also used to support our engagement with local stakeholders by providing a much richer and clearer view of the project plans in a digital environment."
Felipe Manzatucci, Digitalisation Director, Skanska, added: "Through the use of new digital technologies we can accelerate improvements in the quality, safety, sustainability and productivity of our projects.
"Skanska GeoBIM is just one fantastic example of a tool that provides our teams with the data necessary, in one place, to make more informed decisions. Through working together with our customers and supply chain partners we can develop these innovative tools, creating a step change for the entire industry. This external award is wonderful recognition for everyone involved."

Skanska GeoBIM has also been shortlisted at the 2022 Digital Construction Awards and has received the Silver Award in the Digital Construction category at the National Building Construction Awards 2021and Highly Commended in the Technology Leader Trailblazer category at the New Civil Engineer TechFest 2021.
The awards took place during the Geospatial World Forum in Amsterdam on the 9-12 May 2022.