Press release
20/05/2022 09:30 CET
Skanska has successfully handed over a £57 million mixed-use commercial development, The Featherstone Building EC1, to Derwent London.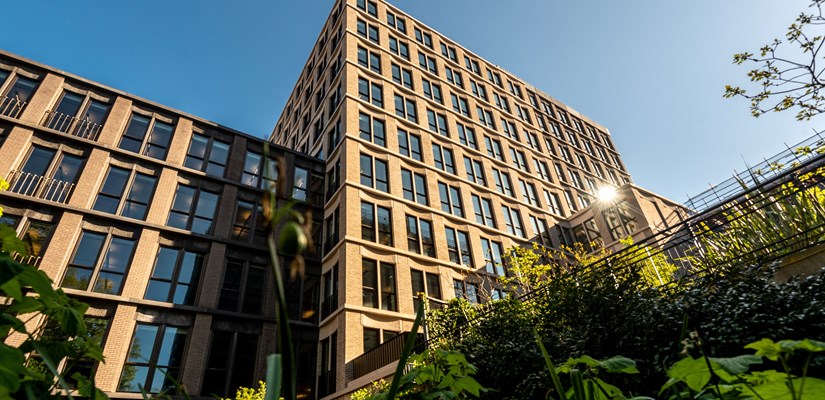 Skanska built the development, in collaboration with key sub-contractors, delivering everything from piling works to building construction, mechanical and electrical engineering services and network solutions for digital connectivity.
The building, which provides 123,000 sqft of office space and 2,400 sqft of retail space, is located in Old Street.
While respectfully designed to complement the architecture of Victorian warehouses of the area, with exposed concrete soffits and generous windows, it also boasts a range of modern features. These include a chilled concrete slab cooling system to absorb heat generated in the offices, plus exceptional digital connectivity, delivered by Skanska's network solutions experts.
Skanska took a modern approach in construction techniques as well as features, engaging with the customer early to optimise the original design and reduce the materials, labour and resources needed through design for manufacture and assembly (DfMA).
The external facade was manufactured off-site reducing risk and simplifying on-site installation resource, removing the need for complex scaffolding, laying bricks by hand and successfully mitigated health and safety risks associated with working at height. It also reduced carbon emissions as less materials, power and water were used, as well as cost savings for the customer.
Elements of the mechanical and electrical engineering services were also prefabricated offsite, helping to significantly reduce installation time for the plantrooms, energy centre, generator enclosure and the office trench heating and cooling pipework. The lifts were also configured and integrated offsite at the manufacturer's facilities – again helping to significantly reduce the amount of time it takes to install and commission these on site.
All of this contributed to achieving a net-zero building, as well as targeting BREEAM Outstanding and LEED Platinum environmental accreditations in recognition of the building's sustainable features. These include solar photovoltaic panels providing on-site renewable energy, with enhanced sub-metering that enables occupiers to monitor their electricity and heat consumption.
Other sustainable features include biodiverse green roofs that support nature and wildlife, as well as efficiency fixtures and fittings reducing water consumption. The cladding system includes windows that open to provide natural ventilation to the offices.
Steve Holbrook, Managing Director, explained: "This is another example of how a strong team of experts can deliver an exemplar building for our customers. The Featherstone Building has a plethora of sustainable features that will not only protect the environment, but also enhance the wellbeing of people using its facilities. It is only possible to achieve such high standards by understanding our customer's priorities and requirements from an early stage, which is also integral to being able to adapt quickly to changes in the environment and subsequently the way we work, learn and live."
Skanska's network solutions team installed and configured the IT network that forms the backbone of the building, linking together key systems. They also installed a range of other IT infrastructure and systems, including CCTV and access control.
This successful completion of The Featherstone Building follows Skanska's previous project for Derwent London, The Copyright Building W1, which was also finished to an exceptional standard and located in London's West End.