Press release
15/06/2022 09:30 CET
Perry Court E-Act Academy has handed over to Bristol City Council, working with the Local Education Partnership (LEP), creating almost 700 extra pupil places.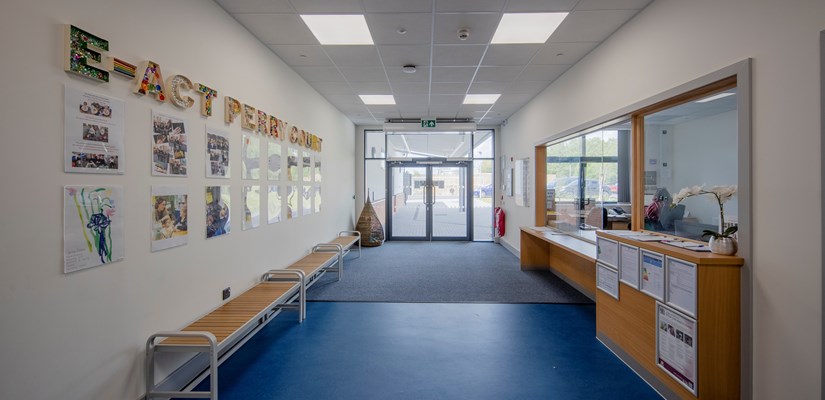 Skanska completed the construction, mechanical and electrical engineering plus digital connectivity fit out of the new facility, built on the existing grounds to modernise the school and create an additional 630 primary and 45 nursery places.
The work added a range of new spaces including IT, library and sports facilities, with two school halls with glass walls, which provide fantastic views of the playing fields. A new car park and pedestrian footpaths were created and provide a welcoming approach to the academy.
Skanska took an innovative approach using modern methods of construction and green techniques to drive carbon reduction and efficiencies. 80 per cent of the timber frame structural panels being assembled off site, as well as the remaining 20 per cent of the steel frame. This lowered the number of vehicle deliveries to site, contributing to the reduction in carbon emissions.
Other green features include a highly insulated building envelope installed to prevent air leakages, plus natural ventilation heat recovery units used in place of traditional radiators to warm and ventilate the classrooms, providing a more comfortable and consistent temperature. The units recycle the heat from air leaving the building, mixing it with fresh air entering the building. Photovoltaic panels were also installed on the roof to generate electricity. This meant the building has achieved a BREEAM 'Very Good' rating.
Charlie Norris, Operations Director, explains: "We're really proud to hand over Perry Court E-Act Academy and see the new building transform the academy and hugely increase student capacity with these much-needed pupil places where they can learn, thrive and flourish. It builds on our partnership work to continue improving educational facilities in Bristol, that has seen us complete more than 90 education projects in Bristol over the years.
"To deliver an academy to such a high-quality like this one, it was vital that we engage early with our customer, as well as the staff and pupils who will be using the facilities, so we can understand what their bespoke requirements are, and what they need the building to do for them to support a healthy and happy environment. This means we can draw on our wealth of knowledge built up across our education team of experts to deliver a building that will stand the test of time and support pupil's learning needs as they begin their educational journey."
A spokesperson for Bristol City Council says: "We are really pleased with this new academy; it is a great example of how we can work together to improve and enhance existing school buildings in a sensitive and practical way that benefits the staff, pupils and the community who use these buildings. These additional primary school and nursery places will be great asset to the local community, and the whole school will benefit from the new IT, library and sports facilities."
Skanska's team of education experts used their extensive knowledge and experience of working alongside pupils and staff, to ensure the facilities remained operational at all times, while the new academy was constructed on the existing playing field.
Pupils moved out of their existing facilities at the end of last year and transferred across to the new building in January, ready to start the new term. Following their move, the team demolished the old building, replacing it with a natural turf sports pitch.