Press release
28/06/2022 09:14 CET
Skanska UK has led a wide-ranging initiative to highlight a potentially dangerous type of lorry loader stabiliser.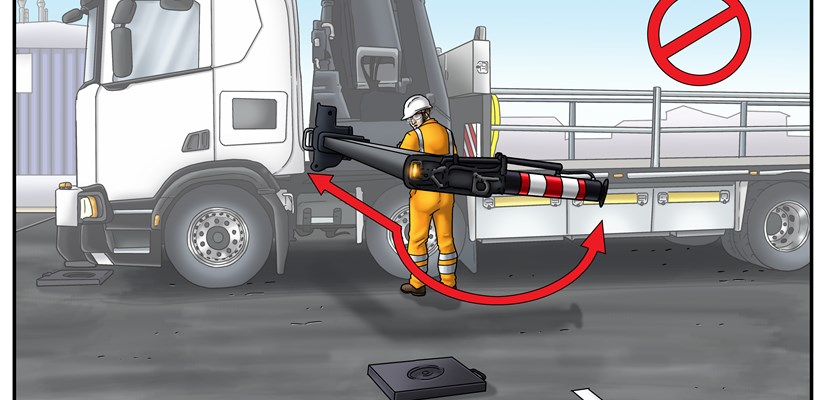 Lorry loaders fitted with hydraulic tilting and hydraulic deployment stabiliser legs which rotate across the position of the fixed controls are to be banned from all Skanska UK sites.
The move will help avoid the risk of operators becoming trapped by 'swing-up' stabilisers that can inadvertently be rotated and drawn into the area where fixed controls are in position.
Skanska UK has worked closely with the Health and Safety Executive (HSE), the Association of Lorry Loaders Manufacturers and Importers (ALLMI) and directly with manufacturers to highlight the risk to operators of being crushed by this type of stabiliser.
ALLMI has now issued instructions to all manufacturers and training companies to provide additional information in their training materials to highlight the risk of inadvertent operation resulting in the operator being struck by the stabiliser when using this type of equipment. Skanska UK is also supporting ALLMI in its work to review and consider amending the international standard for how stabiliser equipment operates.
These actions follow the involvement of this type of stabiliser in a fatal incident at a Skanska UK site at Shirehampton, Bristol in September, 2021.
Vehicles affected by this ban are not widespread across Skanska UK's sites and projects. In a recent survey, 47 lorry loader-related unloading activities were reviewed and only two operated with the stabiliser being able to be moved across the fixed controls.
Skanska UK is collaborating closely with our supply chain partners to ensure they can provide alternative delivery vehicles where required. Vehicles affected by the ban are predominantly those delivering bulky items such as cabins and welfare units.
This standard comes into force on all Skanska UK worksites from Monday 1 August 2022.