Press release
26/09/2022 12:00 CET
Customers, suppliers and employees celebrated together to mark 100 years of work at Skanska UK's Deep Green manufacturing and engineering facility at Bentley Works in Doncaster, south Yorkshire.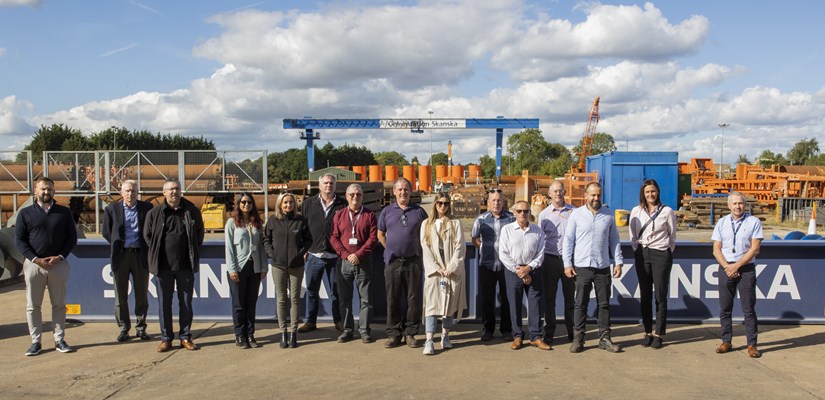 From humble beginnings in the 1920s, the manufacturing, engineering and maintenance teams today provide world-class services and specialist steelworks for export globally. With a base at the same location, Cementation Skanska also provides specialist piling and ground engineering services, working on major building and infrastructure projects in the UK and overseas.
In total, 160 employees are based at Skanska's Deep Green Bentley Works site in Doncaster, with 90 percent living within a five-mile radius. In addition to its fabrications expertise, the team carries out maintenance and testing of Cementation's industry-leading range of piling rigs and machinery.
Two days of activities were held to mark the centenary, on 23/24 September. On Friday 23 September, customers, suppliers and partners were invited to tour the factory and meet the team, with Saturday 24 September a day for employees and their families to celebrate together. The day included site tours, a climbing wall and bouncy castle, arcade games and live entertainment.
The factory has a real family feel, with many members of the same family all working together. "It's been a fantastic couple of days during which we have been able to celebrate this amazing milestone together," said Terry Muckian, Managing Director, Cementation Skanska. "Who would have thought 100 years ago that today we'd be operating on a 7.5 hectare site with 5,000 sqm of workshops developed to the highest environmental standards.
"We're really proud of our long-standing heritage in Doncaster. We have a fantastic team here, which includes loyal people who have been with us for decades as well as our trainees, apprentices and graduates – many coming from local schools and colleges. It's great that we can provide these opportunities, leading to really exciting careers."
World-class services
Today, Bentley Works is home to a multi-skilled team of mechanical and civil engineers. Their expertise includes production design, fabrication, welding, electrical engineering, hydraulics and computer numerical control machining. This latter specialism involves the use of computer-controlled equipment to create items directly from 3D plans. The office is also a key hub for Skanska's Finance team.
Cementation's piling and ground engineering teams are working on some of the biggest projects in the UK today, including HS2 in London, M42 in the Midlands and a range of projects in Scotland, including the mixed-use development at Haymarket Edinburgh. Recent innovations include the development of the industry-leading zero trim piling technique, which is cutting carbon and improving safety, as part of its work on HS2. Since January, Cementation has committed to using Hydrotreated Vegetable Oil (HVO) on all its plant fleet, including piling rigs, helping Skanska on its net-zero 2045 journey.
Green facilities
The redevelopment of Bentley Works in 2015 transformed the offices and workshops into green facilities, meaning they have a near zero impact on the environment. Features include natural lighting and cooling, solar panels that generate energy and a dual-fuel heating system that uses biomass and waste oil from machinery, reducing the workshop's energy usage by 40% and the office accommodation usage by 25%.
Ends.
Notes to editors
Key dates from the past 100 years
1922 – Francois Cementation Company Limited moves about two miles from South Parade in Doncaster to Bentley Works.
1937 – Throughout the war a large part of the workshops at Bentley was given over to the manufacture of three-inch mortar bombs.
1941 – New offices at Bentley Works were completed and an additional 10 acres of land adjacent to the plant yard were purchased with an eye to the future, although in accordance with wartime requirements, the land was planted and farmed for wheat.
1954 – With the increased workload, plans were put in place to double the floor capacity of the workshops at Bentley and this work wascarried out between 1954 and 1956, trebling output.
2015 – Redevelopment project leads to the site being transformed into a leading green facility that has a near-zero impact on the environment.
Click here for more about the history of Cementation Skanska.