Press release
24/10/2022 14:00 CET
Skanska's team of experts at 20 & 22 Ropemaker Street celebrated reaching the highest point of construction on the building with a topping out ceremony.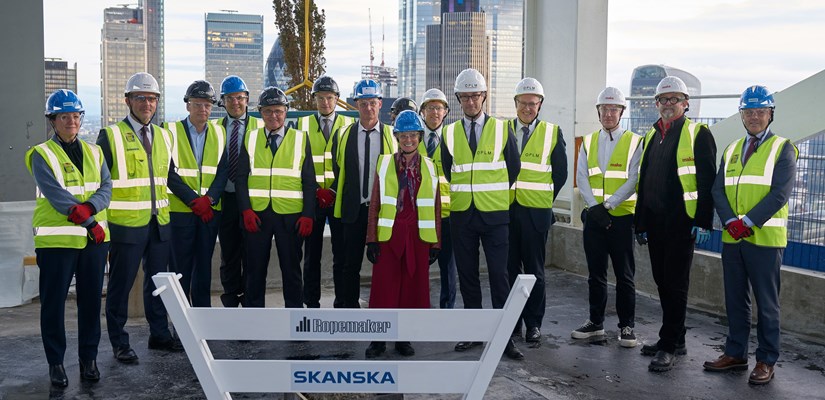 The mixed-use scheme is one of the most significant developments underway in the City of London. It will deliver 450,000 sqft of office space over 26 floors, plus 10,000 sqft of retail space located on Finsbury Pavement, close to Moorgate station. Skanska is installing the mechanical, electrical and public health services, as well as the construction work.
Working to deliver an outstanding project for Old Park Lane Management with CO—RE and Make Architects, as well as reducing carbon, they have set high environmental targets, aiming for BREEAM 'Outstanding' and the latest version of the WELL Building Standard, Version 2 – Platinum. They are introducing sustainable techniques to reduce waste to landfill, plus water and energy use, while choosing eco-friendly materials that mitigate the impact of operations on water, land and soil quality. One example is using a secondary aggregate when mixing the concrete. This involves reusing a product from other industrial processes and reduces the amount of waste produced.
Skanska's team of experts are also using a range of innovations to drive efficient working, including digital rehearsals and telematics technology on cranes to measure productivity. Digital solutions like Revitzo that encourage everybody to work together, as well as being able to show the customer how their project is progressing are also being used. These use 3D models, together with 2D information, combining subcontractor models. The data is manipulated to track the progress of certain aspects of the construction process, such as steelwork.
Ian Perry, Operations Director at Skanska, says: "When finished, this building will provide a sustainable workplace that sets a benchmark for future buildings located in the city. The unique design means the office space is flexible and can adapt to different-sized businesses. This design has created five roof terraces, with access to outdoor space that provides landscaping, seating, biodiversity and nature.
"In the post-pandemic office environment, it's never been more important to find that balance between productivity and wellness. Spaces like this development, with top-quality facilities that earn industry-leading building certifications will be at a premium, so we're proud to bring our healthy building expertise to this fantastic project."
Work is due to complete in the third quarter of 2023, ready for the customer to welcome its first tenants, Linklaters LLP to their new global headquarters with 65,000 sqft of highly flexible office space remaining on the top floors of the building with terrace space in excess of 10,000 sqft and its own entrance.