Press release
30/01/2023 10:25 CET
MLT60, the highest capacity 'portable' maintained load test system in the UK.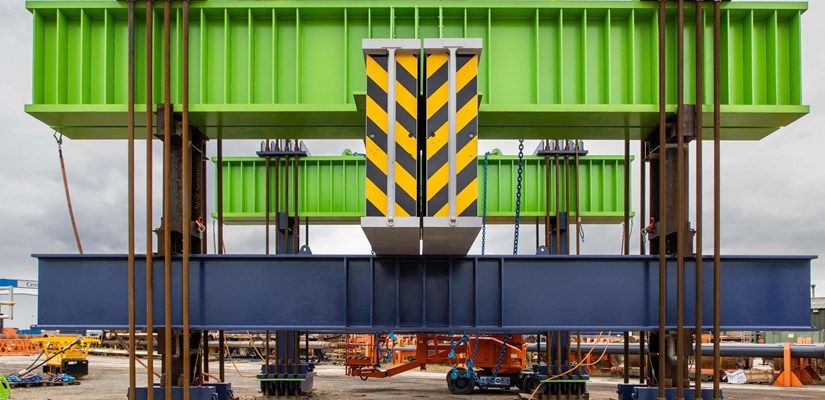 The UK's highest capacity pile load test system capable of testing loads up to 60 meganewtons (MN).
Accurate testing to failure on foundations for major infrastructure and high-rise projects enables designs to be optimised to reduce cost and carbon.
Modular design means it can be assembled, disassembled and transported for use anywhere in the UK.
The 60 MN maintained load test system (MLT60) can carry out some of the biggest tests in the world and undoubtably the biggest in the UK.
Able to test pile loads up to 60 MN [6,000 tonnes] – equivalent to the weight of around 4,000 family cars – it is also portable and can be disassembled, transported, reassembled and reused.
Having the ability to accurately test foundations to much higher loads and knowing precisely when they will fail offers significant efficiency gains. Scope and designs can be rationalised using the extra data obtained, in turn saving cost and carbon.
As well as raising the bar for load test capability, the MLT60 has sophisticated data capture and instrumentation built in using fibre optic sensing technology. This enables the capture and analysis of data on where forces are going, how the ground is behaving and other factors that may influence the point of failure.
Typically, the previous capacity limit for pile load testing was around 30MN. The largest ever test carried out in the UK, performed by Cementation Skanska, was 50.5MN and required bespoke single use equipment.
Cementation Skanska designed, developed and built the MLT60 entirely in-house calling on expertise from around Skanska UK. Every aspect is designed to purpose including the frame, hydraulics, instrumentation and data capture, storage and processing.
Three years in the making, the development involved digital visualisation and modelling, iterative design involving site teams, scenario testing, 3D printed scale models and digital rehearsals of the construction.
By making safety central to the design throughout, manual handling and working at height have been virtually eliminated and a full set of temporary works designs covers every part of its safety and stability while being assembled and dismantled.
Andrew Entwistle, Cementation Skanska Operations Director said: "The MLT60 is a step change in pile testing capability for the industry. Its ability to accurately test foundations at such high loads all the way to failure means we can validate the effectiveness and improve the efficiency of designs – reducing both cost and carbon.
"As piles have got bigger and deeper, testing to failure on major infrastructure and large scale commercial and residential high-rise projects has got harder. So, designs have been based on assumptions with additional safety margins added in. The new MLT60 is a game changer in this regard because it enables us to rationalise designs.
"We are all incredibly proud of how all of our teams came together to create such a unique and forward-looking piece of equipment."