Press release
27/04/2023 10:30 CET
ULEMCo and Cementation Skanska have brought hydrogen dual-fuel to install piles on the HS2 site in London, cutting the use of tradition fuel by 36%.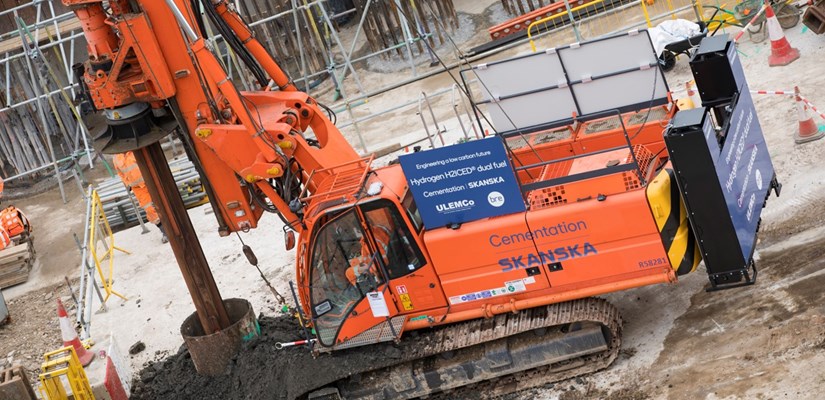 This is the first deployment of a dual-fuel hydrogen rig – installing four piles to a depth of 30 metres.
The rig, modified to operate from on-board hydrogen tanks, achieved 36% (average) displacement of diesel by hydrogen, corresponding to the equivalent reduction in fuel consumption and CO2 emissions.
A medium-sized rig (Soilmec SR30 rotary and CFA piling rig) was converted for the trial. These machines can typically use 100 litres of diesel per day of operation, leading to 262 kg CO2 in emissions.
This real-world test follows successful trials by ULEMCo and Skanska with Building Research Establishment (BRE) and backed by Government funding from Phase 1 of the Red Diesel Replacement programme under the Department for Energy Security and Net Zero (DESNZ).
Using the dual fuel system developed by ULEMCo, called Hydrogen H2ICED® dual fuel, both diesel and HVO fuels were mixed with hydrogen to determine the average percentage displacement of fuel with hydrogen.
The initial trials at Cementation Skanska's plant and fabrications facility, Bentley Works, Doncaster, used simulated loads to test the concept of part replacing diesel or HVO fuel with hydrogen – achieving an average fuel displacement of 36%.
Terry Muckian, Managing Director, Cementation Skanska said: "Using this rig to install piles in a real-world environment is an exciting milestone. It follows the success of the simulated trials last year and is the next step towards rolling the technology out more widely.
"This project goes beyond piling and ground engineering, it provides proof of concept for converting other types of heavy construction equipment, paving the way to construction site decarbonisation."
Amanda Lyne, Managing Director of ULEMCo said: "The high energy and duty cycle demands of machines used in construction make hydrogen power a practical proposition over other zero-emission options. This plant typically has a long life, so demonstrating a decarbonisation solution that utilises these existing assets is not only cost-effective but also important for sustainability."
Ranjit Bassi of BRE said: "The UK construction sector uses around 1bn litres of fuel annually, generating about 2.7m tonnes of CO2, and therefore finding ways to decarbonise the sector is critical to delivering the UK's targets for net zero. BRE's role in this trial is to look across the sector and to help accelerate the transition to clean fuels. Hydrogen looks to be one of the only currently viable routes to doing this in the available timescale."