Press release
09/05/2023 15:31 CET
Timelapse footage shows moment bridge is demolished as part of major £282m upgrade on M42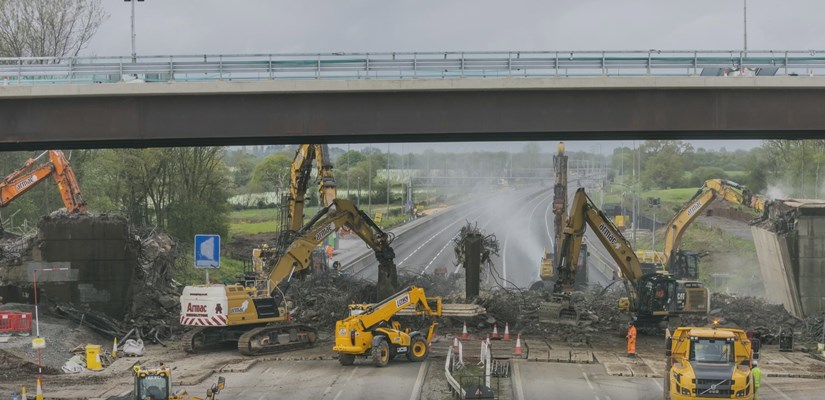 New time-lapse footage shows the moment an old road bridge spanning the M42 in Solihull was demolished as part of the major upgrade to M42 junction 6 that Skanska is delivering on behalf of National Highways.

The project team worked over the Bank Holiday weekend when the road was quieter to safely remove the old bridge. The complex operation was completed after months of planning, together with supply chain partners.

The M42 was closed to keep motorists and construction teams safe. It re-opened some 22 hours earlier than planned thanks to the careful planning and hard work by the teams involved.

The demolition of the old bridge means work can now start on the construction of slip roads for the new junction 5a on the M42.

Dan Trathen, Skanska's Project Director for the M42 Junction 6 scheme said: "This is a significant milestone for the project. The new Solihull Road bridge was lifted into position last autumn and is expected to open by the end of July 2023. Before this can happen the old bridge had to be demolished. Thanks to the team this is now complete, and we are able to build the slip roads for the new junction."

National Highways programme lead, Jon Slemmonds, said: "This new time-lapse footage shows the methodical and complex work of removing the old Solihull Road bridge as part of our upgrade at junction 6.

"Given the scale of the task involved, the bridge was removed using specialist equipment.

"We're making good progress on the upgrade and once the work is complete, it will alleviate congestion at a well-known bottleneck on the M42."

The scheme is part of a congestion-busting upgrade to alleviate queues for drivers.