Press release
09/12/2022 11:00 CET
Cementation Skanska has replaced conventional steel and concrete with basalt reinforcement and low carbon concretes, including CEMFREE, in creating the new guidewall on the London Tunnels section of HS2.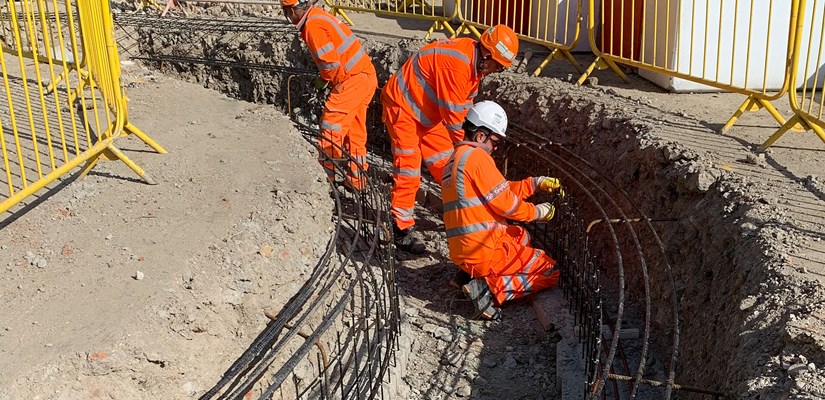 The innovation has been developed through a collaboration involving Cementation Skanska, the Skanska Costain STRABAG joint venture (SCS JV), which is delivering the London Tunnels section of HS2, Basalt Technologies, Hansons and guidewall contractor L&A Reinforcements Ltd.
Believed to be a UK first, the new guidewall has been used on the London Tunnels section of HS2 leading to a reduction in embodied carbon of more than fifty per cent. This is over and above the low carbon mix already in use on the project.
Basalt reinforcement is an emerging technology in the construction sector and is being used as an alternative to conventional steel rebar. In addition to its carbon benefits, having a 22% lower carbon footprint than the steel that would otherwise have been used, Basalt reinforcement is 4.5 times lighter. This makes it much easier to transport and for operatives to move around on site – reducing manual handling injuries. It doesn't cause sparks when cut, meaning there is no need for a hot works permit, and it does not corrode or rust.
This latest use of Basalt technology follows the Skanska led trial on the M42 Junction 6 project, where it is being used with a low carbon reinforced concrete on a temporary haul road.

Cementation Skanska Project Director, Deon Louw, said: "We have a fantastic spirit of collaboration and innovation on the HS2 project, which is really helping to drive industry-wide improvements. This latest trial follows the success of previous innovations on the project, such as zero trim piling.
"We're sharing and applying our learning from different sectors, with this latest use of Basalt technology helped by our work on the M42 J6 highways improvement scheme. We very much hope that this new approach to guidewall construction can be adopted elsewhere in the industry."
A further benefit is that the guidewall can be broken down safely on site after use and used for the construction of working platforms. This is because the basalt is broken down to a fibre, eliminating the need to separate the concrete crush from steel reinforcement.
James Richardson, Managing Director of Skanska Costain STRABAG joint venture (SCS JV) said: "Deploying basalt reinforcement across our project strengthens our ongoing commitment to a cleaner, greener future."
Neil Grace, Director at L&A Reinforcement said: "The site team preferred working with the material over normal reinforcement due to its weight and ease of use. The mesh is supplied to the size required eliminating the need for site cutting. The flexibility of the bars allows them to be placed to a radius without needing them to be pre-bent.
"While the material is marginally more expensive than its steel reinforcement equivalent, due to its design strength smaller diameter bars can be used than if using steel reinforcement – reducing the cost so it is pretty much cost-neutral."
"It's a good product that we would like to see and use more of."