Press release
13/04/2023 10:25 CET
Cementation Skanska and BAUER Maschinen GmbH (BMA) join forces to bring the world's first plug-in, high-capacity drilling rig to work on HS2, eliminating exhaust CO2 emissions and reducing noise impact.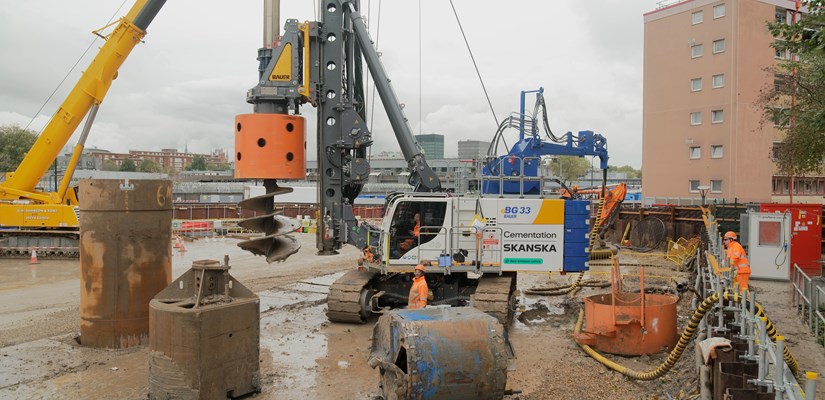 The BMA eBG33 replaces the diesel engine drive with a powerful electric drive. By installing its own electric sub-station on the HS2 site, Cementation has been able to run the rig totally local emission free. Using the grid connection removes any need to rely on a back-up fuel powered generator.
This innovative new machine is demonstrating that heavy, electric powered construction plant can carry out the same tasks as traditional machines while driving a step change in the construction industry's journey towards diesel-free construction sites.
To date, the eBG33 in London has clocked around 360 hours working on site which equates to a saving of 116 tonnes of CO2 in local emissions, while cutting noise emissions by 50% in rig idling and tracking mode.
Cementation Skanska Operations Director Andrew Entwistle said: "The emission-free capability of this rig is an exciting step forward in our net zero ambitions.
"This type of innovation sits at the heart of our carbon reduction strategy and supports HS2 with its ambition for all its construction sites to be diesel free by 2029.
"Not only has it been valuable for us to work with the eBG33 first hand on a live project, but it's provided an important opportunity to demonstrate the potential of all-electric heavy plant to the wider industry."
Warren Arnold, General Manager of BAUER Equipment UK Ltd said: "We are delighted to be working with Cementation on this project to deliver this world first use of a fully local emission free, high-capacity drilling rig.
"BMA are incredibly proud to have developed this one-of-a-kind machine which has set the level for others to aim at. All the tangible, real life data collected during the works will greatly assist in the further development of our green capability and our push to be the first name in sustainable drive train equipment for the deep foundation sector.
"This really is a great opportunity to showcase what the eBG33 can deliver in real term savings. We hope that the local residents can benefit from the massively reduced CO2 outputs and the reduced noise emission."
This trial follows on from HS2 works at Birmingham, where the rig was run on generators to prove the feasibility of handing the cable in a live environment. Having the opportunity in London to plug it into the local power grid allows BMA and Cementation to test it thoroughly from every angle and gather valuable data on the electricity consumption from the grid throughout the piling process. This data will help in the development of BMAs recently unveiled battery driven version, the aeBG33. The first in the world trial will also ensure that machine is fully compliant with UK standards.