Press release
29/06/2023 14:00 CET
Skanska's team of craftspeople has completed the internal fit-out of 29 luxury residential apartments at Knightsbridge Gardens for its customer, The Olayan Group.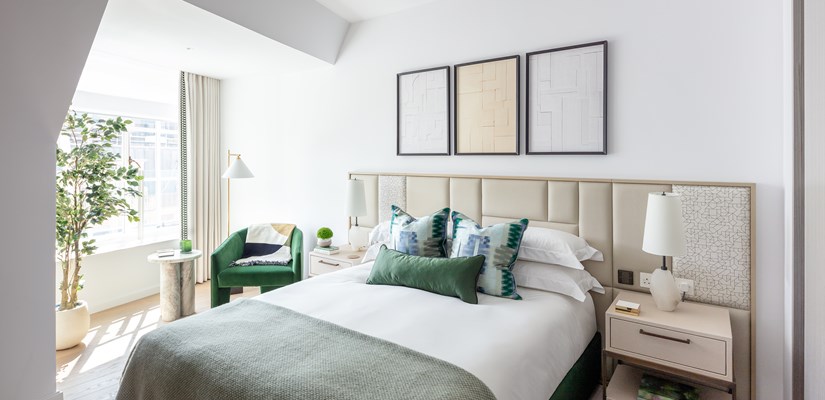 Maintaining the area's heritage, while creating apartments that embrace the latest technologies to offer tenants an opulent living-experience, was a priority for the team and customer. The apartments are contained within the original façade, preserved to protect a listed 1904-built four-storey property at the corner of Sloane Street and Basil Street. To achieve this, the facade underwent a significant amount of work to modernise it, and at the same time the team ensured it remained true to its original construction.
Work also included the creation of communal areas and a club room, as well as hard and soft landscaping for an internal courtyard garden located on the second floor.
John Crawley, Operations Director, commented: "This project is in a busy part of London and has been logistically challenging for us. Since beginning work here, we have built up an excellent relationship with our customer, stakeholders and supply chain so we can work together seamlessly and overcome challenges like these. Our strong relationship meant we could work closely with the design team and supply chain to navigate the challenge of delivering 84 different bathroom designs for these 29 luxury apartments, which was no mean feat."
"To meet the customer's bespoke requirements for these apartments we needed to install different types of stone and joinery, so we had to plan the delivery of materials meticulously. This was only achievable through working together at all stages. Our craftspeople have delivered an exceptionally high standard of work that looks stunning," he continued.
Protecting the environment was also high on the agenda. The team introduced a floor screed that not only reduced the curing times – meaning work could continue more quickly – but also reduced the carbon impact by 67 per cent, compared to traditional screeds.
Since starting work five years ago at The Knightsbridge Estate, the team has transformed the site into a fashionable area to work, live and shop. It is in the heart of bustling Knightsbridge where a plethora of upmarket shops and fine dining venues are located and is just a stone's throw away from the internationally famous Harrods department store.
The new apartments complement the existing residential areas on The Knightsbridge Estate and offer homes that are bright and spacious. Designed by Taylor Howes, the apartments are arranged around an attractive open courtyard garden designed by internationally acclaimed Gross Max. A world-class, site-based concierge team will manage the apartments, which are only available to rent.
Knightsbridge Gardens forms part of the significant redevelopment of the northern end of The Knightsbridge Estate, which Skanska finished at the end of 2021.