Press release
11/04/2014 12:09 CET
The Royal London Hospital's new main entrance and dedicated entry points for the Women and Children's Hospital and Renal Unit are now open, thanks to the combined efforts of Skanska, Barts Health NHS Trust and Capital Hospitals Ltd.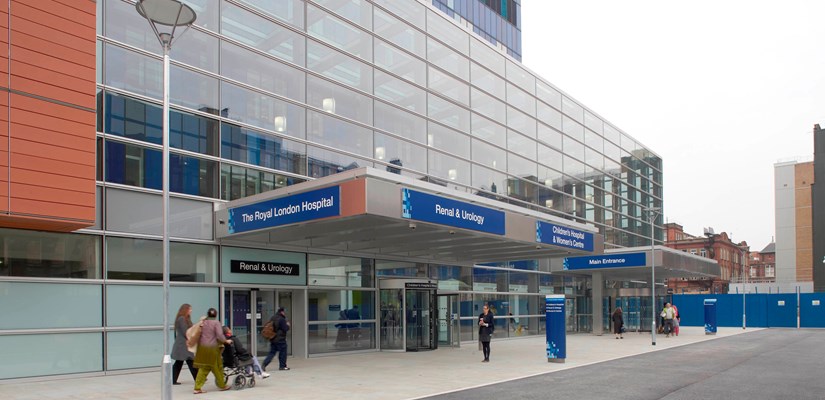 The north colonnade, which opened last week, provides easier access to the main hospital services for patients, visitors and staff, particularly those attending the Children's Hospital and Women's Centre, Renal and Urology departments.
The new front entrance benefits from a natural light-enhancing glass colonnade with a volume of 5,500m³ – big enough to stack 47 double-decker buses – and, when laid flat, the glass panels would be equivalent to the area of an Olympic-sized swimming pool (1200sqm).
Each glass panel used in the construction is designed to improve heat retention in the area by 75 per cent, without reducing daylight into the space, and the aluminium structure supporting the panels has been produced using 100 per cent recycled materials.
Russell Gates, Director of redevelopment at Barts Health NHS Trust, which runs The Royal London Hospital, said: "I am delighted that we have been able to make our brand new hospital even easier to navigate and created a more pleasant environment to improve the experience of patients and visitors to match the excellent care provided."
The opening of the front entrance marks a new chapter in the hospital's move to the world class facilities at the new 17-storey building, officially opened by Her Majesty Queen Elizabeth II on 1 March 2012.
For more than a year, the work has been carried out within the 24/7 Emergency Department and immediately next to active hospital areas such as operating theatres – with work sometimes taking place out-of-hours to avoid disruption to ongoing clinical services.
Leigh Davis, Operations Manager at The Royal London Hospital, said: "The opening of the new dramatic entrances and meeting space is the culmination of two years' of extensive collaboration between the trust, Skanska and Capital Hospitals Ltd in developing a sequence for the works. This has enabled the final piece of the new build jigsaw to be completed with the minimum of disruption to the functioning of the hospital."
Ongoing work, to conclude by October 2014, will see the Emergency Department benefitting from its own entrance, while existing temporary corridors will be transformed into high-quality treatment areas. The project will, by November 2014, also provide outpatient services to the ground and first floors of the south tower together with a haematology department on the first floor of the centre tower.