Press release
30/10/2014 10:00 CET
Skanska employees try out the latest plug-in electric Nissan LEAF cars as part of a two-year trial.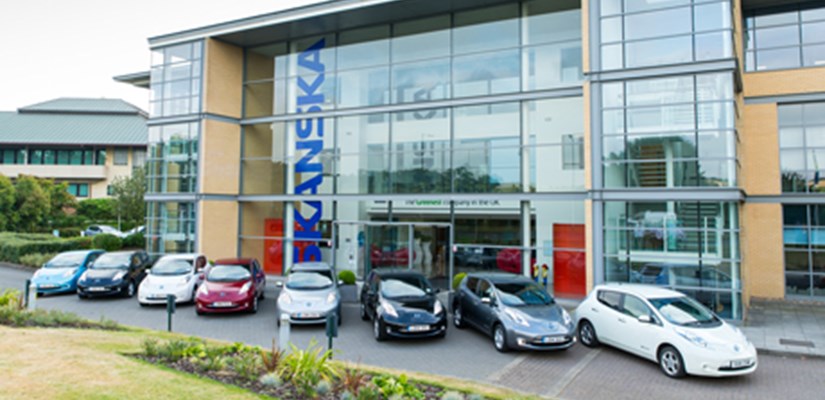 Eight Skanska company car drivers are trialling electric vehicles to help develop the business case for increasing Skanska's green fleet. The trial is being run in collaboration with Nissan (GB) and Shell.
The pilot aims to establish the running costs and benefits of switching to electric vehicles, and assess the potential for electric vehicles to play a role in smart grid solutions.
The electric cars are zero emission, improving air quality and reducing carbon footprint. They also have much lower running costs compared with traditional vehicles.
As part of the trial, the company car drivers have had an electric charge point installed at their homes. There are financial benefits for the drivers too – electric vehicles are exempt from company car tax, fuel benefit charges and the London congestion charge.
Director of Environment Jennifer Clark said: "We've been reducing the environmental impact of our fleet since 2009, when we launched our green car policy stipulating that all company cars have to be 130g/km or less. Employees who opt to take a car allowance have to use it against a car that meets the same emissions criteria. We're really excited to be taking part in this pilot – it will help us to make the business case so that we can provide electric cars as a standard option for our company car drivers."
Sustainability Manager and Trial Manager Peter Scanlon said: "This is a fantastic opportunity to gain first-hand experience of managing electric vehicles in our fleet, electric vehicles will have a significant role to play in the decarbonisation of the UK's economy. This trial provides a baseline to assess the capabilities of electric vehicles to deliver fleet expectations, in addition the trial will provide valuable learning and research around the feasibility and application of electric vehicles to smart grid."
Sustainability Manager David Mason said: "I believe electric cars are the future and it's great to be part of a trial advancing the technology. I've done more than 2,800 electric miles now and driving the LEAF still makes me smile. It's responsive, comfortable and seems to be doing everything I ask of it. Getting used to a car with such a comparatively small range has been a challenge, but the computer is accurate and I'm trusting it more and more. If it says 40 miles and you drive reasonably consistently, than 40 miles is what it will do."