Press release
15/05/2014 15:07 CET
Skanska is working with the Department of Energy and Climate Change (DECC), and the UK Government, to further improve their energy efficiency and reduce carbon output.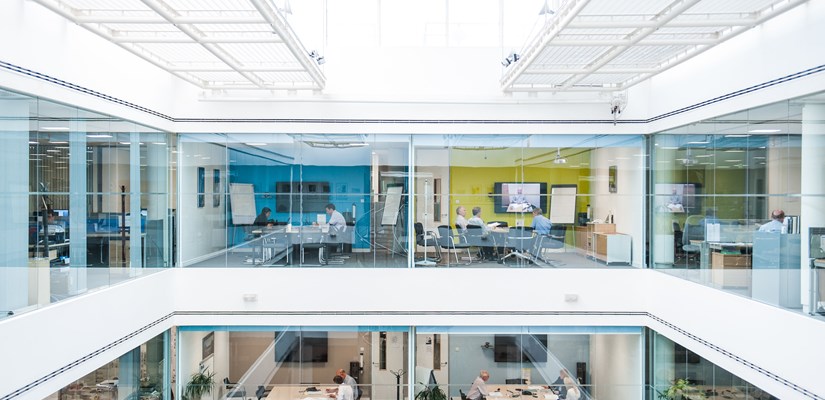 Skanska, as DECC's energy services company, is working through the RE:FIT Programme to also improve the Display Energy Certificate ratings and optimise buildings' energy efficiency, and enhance staff environmental conditions.
The project's key deliverable has been a large LED lighting retrofit to 3 Whitehall Place and Skanska, through the RE:FIT Programme Delivery Unit, delivered the project for DECC. This work required 1,400 energy inefficient light fittings to be replaced with LED units and was completed in just 17 days, with Skanska people working out of hours in an occupied building to achieve the challenging task.
Further installed energy conservation measures at 3 Whitehall Place and 55 Whitehall include:
Building management system modifications and upgrading to reduce the minimum speed settings for supply and extract fans
Variable speed drive for boiler house ventilation fan
LED lighting upgrade to replace modular fluorescent fittings with LED technology.
Skanska is contracted to save DECC 14.6% of energy per annum (kWh) with a 12-year payback period. To attain further energy savings on the already-efficient DECC estate, premium energy conservation measures have also been installed, which incur a longer payback period.
The recently completed installation will be followed up by Skanska through training with the facilities management team at DECC and commencing the measurement and verification process which will consistently report on the energy savings achieved from the energy conservation measures installed.
Karen Dell, Head of Sustainability at DECC, said: "Given DECC's previous success, finding further carbon was always going to be challenging. The RE:FIT programme brought fresh ideas to this challenge and the support of the RE:FIT Programme Delivery Unit was very helpful."
Richard Byers, Head of Green Business, and Skanska's key contact for DECC, said: "It has taken the team a while to develop this concept with DECC and the initial results demonstrate that the efforts are paying off and are very worthwhile. Early indications suggest that the savings are even greater than anticipated too."