Press release
22/11/2013 10:49 CET
Last night, the Skanska team joined other leaders and innovators in sustainability to celebrate projects and people at the Edie Sustainability Leaders Awards 2013 at the Grand Connaught Rooms in central London.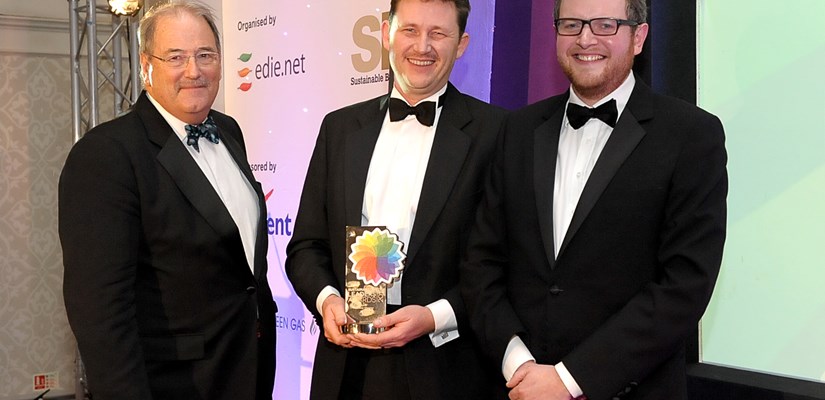 Skanska's office in Woking, Hollywood House, was the winning project in the Energy Efficiency category. It has achieved the highest LEED score in the UK for commercial interiors, cutting energy usage by 45 per cent and carbon emissions by 55 per cent, as well as making significant savings in water usage. Judges commented on the importance of the landlord tenant relationship and how it initiated green innovation within a commercially acceptable payback cycle.
Brent Civic Centre, set to be named as the UK's greenest public building, won the Sustainable Building award. The building was constructed by Skanska and completed earlier this year. The collaborative relationship between Skanska and the client was an important factor in achieving its BRE Environmental Assessment Method (BREEAM) 'Outstanding' rating. Congratulations also go to URS, engineering and technical services, for this award win.
CEO and president for Skanska UK Mike Putnam was shortlisted in the Sustainability Leader Award.
The Sustainability Leaders Awards celebrate true leadership and innovation among companies and organisations, large and small, who are making genuine progress in embedding sustainability throughout their operations.
Jennifer Clark, director of environment, commented: "It's important to recognise the achievements of those at the forefront of sustainability. Only by taking the initiative and pushing forward with innovation do we find new ways to reduce our energy usage, cut our carbon emissions and improve the environment. Congratulations to all of the winners and all those shortlisted."