Press release
11/03/2013 09:30 CET
BRE Environmental Assessment Method (BREEAM) has awarded Skanska with another prestigious accolade for its achievements at HMP Thameside, formerly known as Belmarsh West.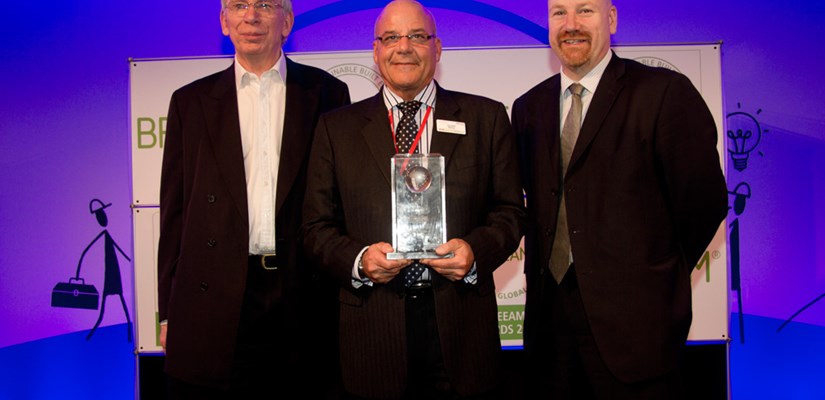 This is the second BREEAM award for the prison – presented for the kitchen and training workshops building. It recognises the high score received during certification. BREEAM is a voluntary measurement rating for green buildings and is used as a tool to measure the sustainability of new non-domestic buildings in the UK.
The award was presented at the annual Ecobuild conference on 5 March, and recognises the team's achievements in the specification, design, construction and operation of the BREEAM assessed buildings. These represent leading examples of construction projects assessed and certified in the preceding calendar year.
Guy Baulf, Serco Director – HMP Thameside collected the award along with Brian Parke Skanska Pre-construction Director and Paul Brown Ministry of Justice Project Manager.
Guy said: "When I first saw the land that the prison would be built on, I didn't believe that it would fit. However with Skanska's careful planning and organisation we now have a fit for purpose prison handed over two months early that is well designed and actually looks quite beautiful.
"Skanska has been building prisons for us for many years and what I like is that they listen to us – the client – and learn from every design to ensure each prison is better than the previous. A great example is the concrete moulded cells – cleverly designed to include shelves for prisoners to put their belongings on."
The HMP Thameside development comprises of 10 prison buildings including: a sports hall, reception, kitchen, vocational training workshops and a health and education unit. The Living Unit is a four-storey building providing 600 prison cells. It boasts a host of environmental features including: a waste vegetable oil biofuel boiler, on-site food composting and water efficient toilets.