Press release
20/05/2013 13:00 CET
The landmark new Brent Civic Centre has achieved practical completion in the north London borough of Brent.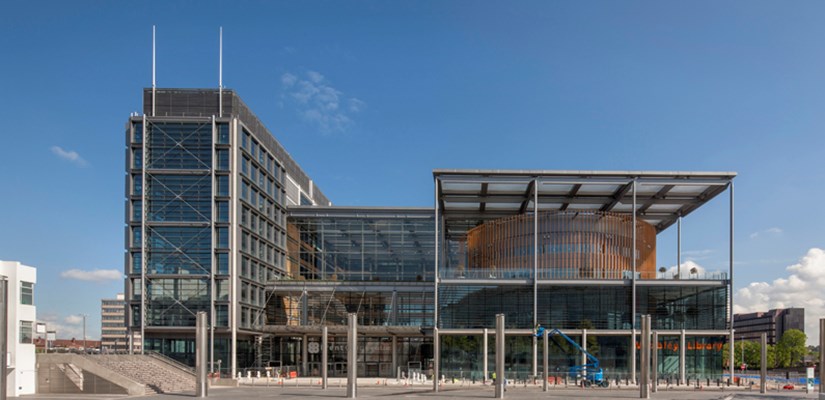 The multipurpose development allows the Council to realise its vision for a consolidated facility that houses their civic, public and administrative functions under one unified roof, providing office space for 2000 staff. Located on a prominent site next to two well-known civic icons, Wembley Stadium and Wembley Arena, it will streamline all aspects of the Council's activities and has been designed to become the new hub and heart for the community where residents can meet, shop and eat.
The building's spaces are arranged around a soaring, naturally-lit foyer and atrium which houses a large public amphitheatre and staircase that will host a programme of high-quality arts and cultural experiences that will enhance the building. A circular Drum clad in timber fins features prominently in this space and houses a multi-purpose community hall, library, one-stop shop and civic chamber. Behind this, glazed office wings are open-plan and flexible to provide a future-proofed solution to the diverse community's administrative needs. The building also includes space for retail outlets and a landscaped garden to help it to connect further with the surrounding Wembley Regeneration Area.
The project has been awarded the coveted BREEAM 'Outstanding' rating, the highest possible, and is the first project in its category to have achieved this. As such, it features a 33% reduction in carbon emissions thanks to a combination of solar shading, natural ventilation, high-performance façade, and combined cooling, heating and power which utilises waste fish oil. It is the most sustainable local authority building to be completed in the UK.
The project team included Brent Council as client, Hopkins Architects as architect, Skanska as design and build contractor, URS for town planning, engineering design, environmental and sustainability services including the BREEAM assessment, and Turner and Townsend as quantity surveyor and project manager.
John Crawley, Operations Director for Skanska commented: "The whole team has worked together to create a building with the latest technologies and where its employees can serve the community from one convenient place."
"Brent Civic Centre is an inspirational building that we hope others will aspire to replicate; all the hard work, dedication and sheer determination to achieve practical completion has paid off."