Press release
04/08/2014 08:04 CET
Land Securities joined forces with Skanska to celebrate the topping out of New Ludgate, 12 months after construction commenced at the island site and nine months ahead of practical completion.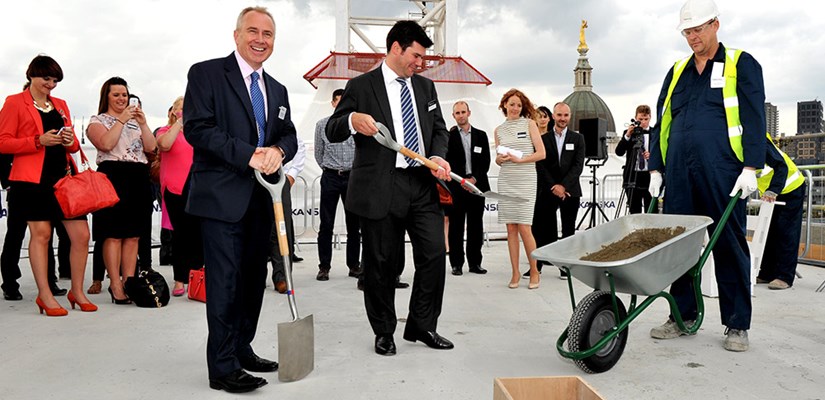 One and Two New Ludgate, comprising 350,000 sq ft of commercial office space and 31,000 sq ft of retail and restaurant space, are the only major speculative office buildings due to complete in the City in 2015
The two distinct buildings offer outstanding work environments as well as generous open and green public space. Both buildings are striking, individual yet complementary designs. One New Ludgate showcases classical elegance with an extensive roof garden and balcony with impressive views of St Paul's Cathedral and across London. Two New Ludgate's dynamic, colourful European style adds dynamism and vibrancy. The buildings are located at a strategic point where the capital's financial, legal, professional and media worlds connect.
In June 2013, Land Securities appointed Skanska as the main contractor to design and construct New Ludgate, including Category A fit-out on selected floors plus public realm works. Today's topping out ceremony was attended by representatives from both companies, as well as from architects Fletcher Priest (masterplan and One New Ludgate) and Sauerbruch Hutton (Two New Ludgate) who have designed the complementary buildings to feature materials, colours and architectural lines inspired by the spaces around them.
The celebration today follows the announcement that 61% of office space at New Ludgate has been pre-let, with continued tenant interest in the remaining space.
Colette O'Shea, Managing Director, London Portfolio at Land Securities, said:
"New Ludgate's success to date is testament to Land Securities' focus on developing the very best office space that exceeds occupiers' expectations. Our shrewd decision to develop speculatively has paid off with Japanese bank Mizuho Group and US law firm Ropes & Gray both signing 20 year leases, nine months ahead of completion."
Paul Chandler, Executive Vice President for Skanska UK, said:
"We are delighted to celebrate this important milestone at One and Two New Ludgate. It's fantastic to have had the opportunity to work on this distinctive development, a notable addition to our portfolio of high-quality offices in the capital. We wish the team continued success as the scheme progresses through to completion."
Working closely with Land Securities from the start, Skanska put together a specialist in-house team, combining its skills in design, construction, mechanical and electrical engineering and ceiling installation. Skanska's expertise in BIM (Building Information Modelling), for example, enabled the team to consider at an early stage the detailed challenges of the distinctive 'flying carpet' roof at One New Ludgate.
New Ludgate is designed to meet the environment standard BREEAM 'Excellent', and will do so through innovative solutions including on site power generation from solar panels on the roof, combined heating and power plant (CHP) in the basement, and capturing rainwater and waste water to use across the development.