Press release
25/06/2014 09:12 CET
Following a Skanska event held earlier this year, sharing international experience with its highways clients, Skanska has trialled the use of a Swedish Patcher in the UK. The Patcher has demonstrated how preventative maintenance of the highway network can help resolve the ever increasing pothole problem.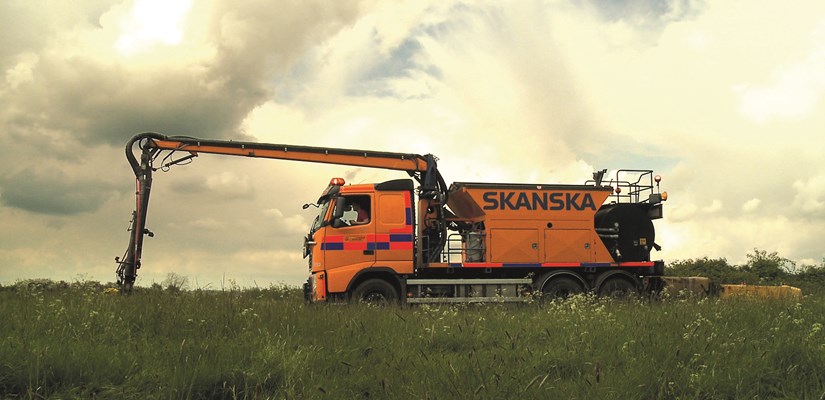 Nick-named 'the dragon' by client highways engineers, due to the fire emitting nozzle it uses to de-ice the surface area of potholes on Scandinavian roads, the machine has been trialled across Cambridgeshire, Oxfordshire and Peterborough.
The trial is an example of Skanska providing innovative solutions to bring a fast, cost-effective approach to highway maintenance and is part of its strategy of sharing best practice and learning between countries.
The Patcher operates by one person in a cab, is safer and is more environmentally sustainable than traditional methods of defect repair. The area is blown clean, and for colder climates a flame is used to de-ice the surface and then sprays a hot bituminous emulsion to the area needing repair, followed by chippings. The surface is then immediately ready to take traffic. The Patcher also treats minor cracks and crazing that could otherwise develop into potholes, thereby treating a potential defect before it occurs.
The Patcher is proven to be significantly quicker at repairs and costs are almost half those incurred using the traditional method. There is less waste and, most importantly, it is safer for roadworkers. The outcome of the UK trials showed that the Swedish Patcher was twice as quick when compared with a manual repair solution.
Gregor Craig, Managing Director at Skanska, said: "Bringing innovative techniques from Sweden to the UK is part of our strategy of sharing best practice and learning across Skanska. The Swedish Patcher is an example of the strategy working in practice."
Nicola Debnam of Local Infrastructure and Street Management at Cambridgeshire County Council, said: "Cambridgeshire County Council is always looking for new and better ways to maintain our roads. Reducing the time it takes to repair potholes is good for the Council's taxpayer and road users. We will be assessing whether this method will be suitable for our roads."
Andy Tatt, Head ​of Peterborough Highway Services for Peterborough City Council, said: "Potholes are a nuisance to everyone and if we can find a more efficient and effective method to tackle them, then that would be good news for us and all road users alike.
"We are excited that Skanska is testing out this machine in the Peterborough area and we are pleased with the results of the trial."
Mark Kemp, the Oxfordshire County Council's Deputy Director for Commercial Services, said: "The county council works hard all year round to fix potholes.
"The "Dragon" is another innovation that we are trying out with our contractor and I will be very interested to see how it does in Oxfordshire and other parts of the UK.
"We take pothole fixing very seriously and we are always looking for new and better ways of doing things. This sort of mobile patching is ideal for quieter roads as it can keep on the move and does several areas in one go without holding up traffic."