Press release
13/11/2013 07:08 CET
Two Skanska trainees collected top honours at the Civil Engineering Contractors Association (CECA) southern awards.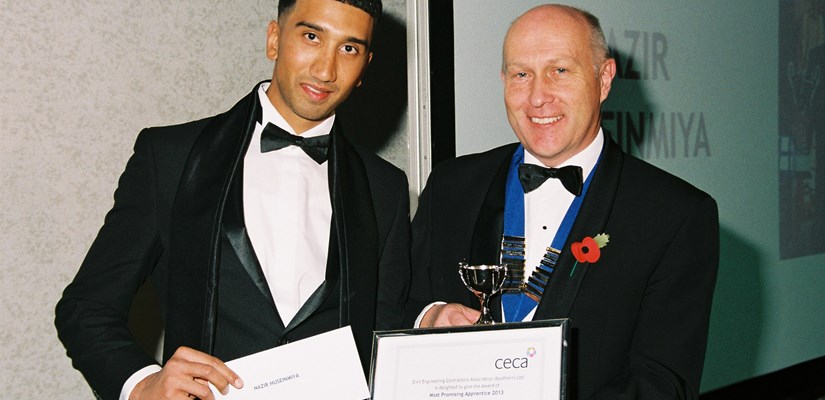 The CECA southern annual dinner and awards are held to recognise and celebrate excellence in the field, while also raising awareness of the need to recruit new people into the industry.
Skanska's Nazir Huseinmiya won 'most promising apprentice' 2013 while Jasdeep Dale won 'most promising trainee quantity surveyor' 2013.
On picking up his award, Nazir Huseinmiya, who is currently working on the Crossrail C360 project at Eleanor Street and Mile End shafts, said:
"It's an honour to be part of such a great event and to win such a prestigious award. I would like to thank everyone at C360 for their support and a special thank you to everyone at Skanska for giving me this opportunity and making this all possible."
Nazir is due to complete his apprenticeship in May 2014.
Former apprentice Jasdeep Dale is now forging a career for himself in quantity surveying.
A trainee quantity surveyor on the Crossrail Paddington project, Jasdeep's ultimate aim is to become a member of RICS (the Royal Institution of Chartered Surveyors). He said:
"I am honoured to have been nominated for the award and to win it was a great achievement. But for me the most important thing is the recognition of my colleagues who have given me a great deal of responsibility over the past few years."
Jonathan Morris, Skanska civil engineering director of business strategy and improvement, said:
"I'm delighted for both Nazir and Jasdeep, it's a wonderful achievement.
"All of the shortlisted candidates have worked hard, shown tremendous commitment to the industry and deserved their place at the awards. Well done to them all.
"It's the third year running that a Skanska employee has won the 'most promising apprentice' category, following Kelli Randall in 2011 and Charlie Streater in 2012. We are committed to supporting all of our apprentices and doing all we can to help them reach their potential."
The event was held at London's Lancaster hotel on Wednesday 6 November.
In July this year, Nazir won two awards at the regional National Construction College East (Bircham Newton) awards and is now looking forward to the national CITB apprentice of the year awards at the O2 arena in November.