Press release
12/12/2012 13:00 CET
Last week, saw the annual British Geotechnical Association (BGA) Fleming award ceremony take place at the Institution of Civil Engineers in London.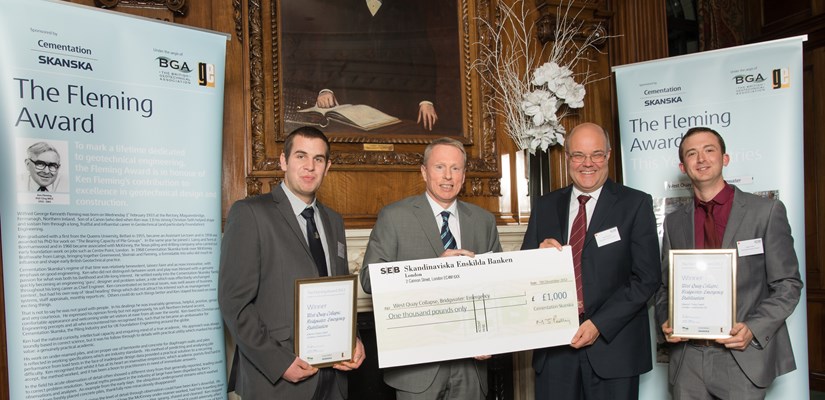 Over 100 guests attended the glitzy event to recognise and celebrate geotechnical engineering excellence. The Fleming award is one of the top prizes in geotechnical engineering and was established by Cementation Skanska twelve years ago. This year it was won by Somerset County Council and Crestmoor Construction for their stabilisation and reconstruction work on the West Quay project located in Bridgewater.
Peter Radford, County Bridges Structures Manager for Somerset County Council commented: "This award will go down as a career highlight for everyone involved in the project, and particularly the three of us who were lucky enough to be there on the night."
Martin Pedley, Managing Director for Cementation Skanska, commented: "We are very proud to sponsor this award as it is a great way to recognise the incredible engineering ideas and teamwork exhibited by our industry.
"It is also a fantastic way to remind people of the remarkable leadership Ken Fleming showed as our Chief Engineer and how he inspired a generation of budding geotechnical engineers."
Ken Fleming worked for the company from 1958 until his death in 2001. He was the much-respected Chief Engineer at Cementation Skanska, and was awarded the BGA's Skempton Gold Medal in 1999. He was also a visiting Professor at Queen's University, Belfast