Press release
30/11/2012 11:51 CET
The North London Gas Alliance, a contract where Skanska is working in partnership with National Grid, scooped two top prizes at the National Joint Utilities Group (NJUG) Awards.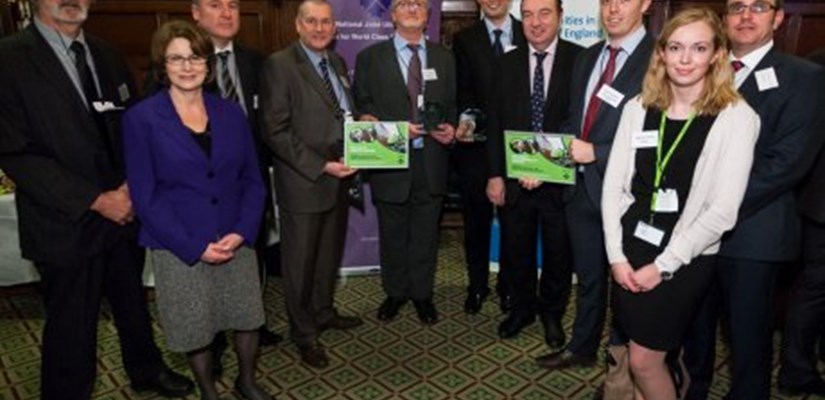 Now in its fifth year, the NJUG Awards recognise, reward and publicise best practice in the street works sector. Members of the alliance collected the NJUG Safety Award and the NJUG Sustainability Award at the awards ceremony in the Houses of Parliament on 20 November.
The safety award recognised the alliance's development of industry-leading safety and engineering initiatives.
The sustainability award was presented to the alliance for its use of sustainable methods and materials, in particular its use of technology in the reinstatement process to maximise recycling rates and reduce spoil generation.
Peter Jones, Skanska Utilities Managing Director, congratulated the team, saying: "Picking up two awards at this prestigious event is fantastic. This rounds off a great year, having won the innovation and climate change awards at the Gas Industry Awards and being named Road/Streetworks Contractor of the Year. This is the icing on the cake."
NJUG's Chief Executive Officer Les Guest said: "We've seen much progress in the street works sector this year to drive up standards and I'm pleased to be able to reward those who have taken the initiative. Like every year, the winning submissions will be turned into case studies and shared with industry. Congratulations to both the winners and the nominees of tonight's awards."
Six awards categories were presented on the night and entries were open to utilities companies, contractors and local authorities. The winners were chosen by an independent panel of industry experts.
NJUG is the UK's only trade association for street works issues. It promotes best practice, self regulation and a two-way relationship with government and other stakeholders.