Press release
20/06/2014 09:00 CET
The International Dilmun Environmental Award has been presented to Skanska UK in recognition for its excellence in environmental performance and health and safety management.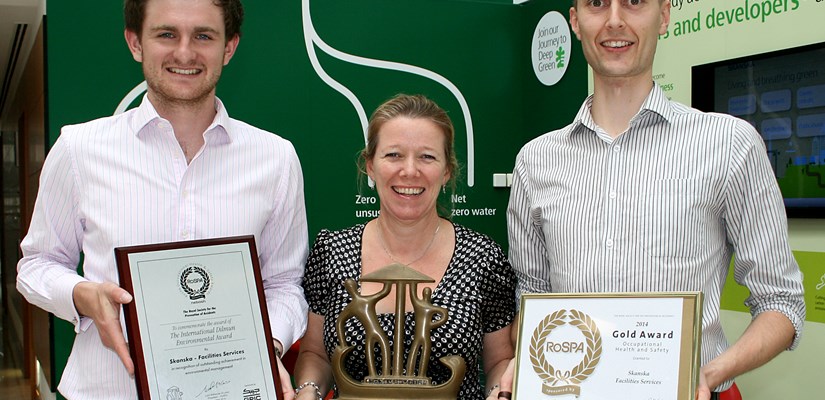 The award is recognition for Skanska all-round performance, workforce commitment and development of environmental initiatives.
This includes Skanska's green car policy, under which all company cars have exhaust emissions of less than 130g/km. With almost 1,500 cars in the fleet, it's a significant environmental saving. Direct carbon emissions have been reduced by 2,600 tonnes, with fuel cost savings of some £1.2 million.
Other key factors include achievements in waste disposal, with 97% of waste across Skanska's UK operations now diverted from landfill. At a project level, a behavioural change programme for Barts Health NHS Trust, covering six hospital sites, has led to the diversion of 100% of waste from landfill, leading to some £600,000 in savings in its first two years.
Supporting Skanska's global Journey to Deep Green™, the company's sustainability policy is also helping to drive improved environmental standards through the supply chain and more in-depth capability in the industry, through industry initiatives such as the Supply Chain Sustainability School.
The International Dilmun Environmental Award was collected by Katy Dowding, Managing Director of Skanska's Facilities Services business at the RoSPA Occupational Health and Safety Awards, held at London's ExCel on 17 June. On picking up the award she said:
"This award is fantastic recognition of the success of our work and our absolute commitment to achieving the very highest environmental and health and safety standards.
"We believe that our goal of operating with almost zero impact on the environment is a realistic target. Our determination to achieve this is reflected not only in the culture of our organisation but also the way in which we work and the projects we deliver for our clients.
"Our industry is a potentially dangerous one to work in. We are determined to do all that we can to achieve zero accidents, making sure that everyone returns home safely at the end of each working day."
At the same ceremony, Skanska's piling and foundations specialist, Cementation Skanska, received a second President's Award for 11 years of consistent health and safety performance.
Skanska's ceiling specialists, Clark & Fenn, also picked up the President's Award, acknowledging 10 consecutive Gold awards, with the SRW and Utilities businesses also collecting Gold awards.
David Rawlins, RoSPA's awards manager, added:
"The RoSPA Awards encourage the raising of occupational health and safety standards across the board. Organisations that gain recognition for their health and safety management systems, such as Skanska, contribute to a collective raising of the bar for other organisations to aspire to, and we offer them our congratulations."