Press release
26/06/2013 16:00 CET
Kent students take a tour of the tallest tower in the City of London, thanks to construction company, Skanska.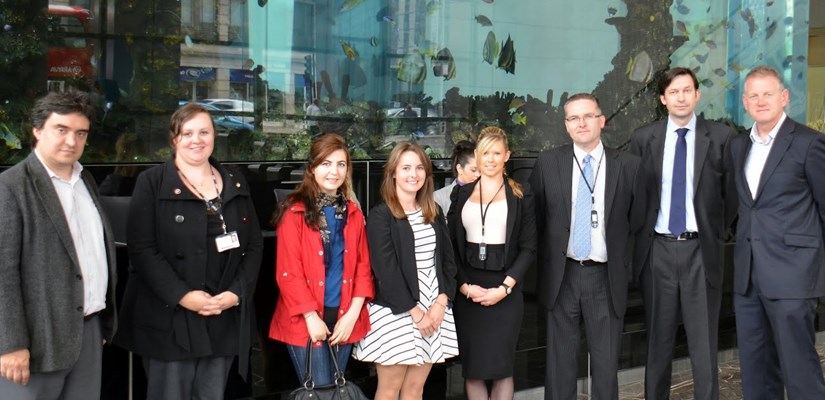 Students from the University of Kent have been awarded for their efforts at the recent Employability Points rewards ceremony at the Canterbury campus. The Employability Points scheme gives talented students opportunities to learn about the real world of work as a reward for their dedication in improving their employability.
For their prize Hasret Tepeli (29) and Naomi Goldthorpe (22) were invited to join senior executives from Skanska to attend a special tour of the Heron Tower building in Bishopsgate, London on 17 June.
Heron Tower is one of Skanska's flagship projects and is one of the first of a new wave of landmark towers to grace and enhance London's skyline.
Taken to the 34th floor in one of the high speed double deck scenic lifts, the students got to see a near 360 degree view of the London skyline. Hasret Tepeli, from Turkey, was amazed by the view: "Being up here has shown me a completely different view of London than the one I have seen at ground level as a tourist."
The students discovered first hand what goes into the design and construction of a modern skyscraper – the innovative technology and the sustainable features that have led to the award of the coveted sustainable buildings rating BREEAM Excellent standard.
They also had the chance to see Britain's largest privately owned aquarium, situated in the lobby. The tank contains over 1200 fish with 67 different species. Naomi Goldthorpe commented: "It is incredible that scuba-divers are used to clean the tank as it is so huge."
After the tour, the students were treated to lunch in the famous Drift restaurant.
Kasia Senyszyn, Employability Points Coordinator, University of Kent said: "The tour of Heron Tower that Skanska offered was brilliant as it showed the students how a big-scale project comes to life. The team from Skanska and Paul at Kohn Pedersen Fox Associates were so helpful in answering our questions, and the students and I thoroughly enjoyed the visit. I'm delighted that our relationship with Skanska is going from strength to strength, and I look forward to working with the team again next year."
The tour was given by Richard Naughton, Project Director, and Jon Chown, Facilities Services Operations Director at Skanska and Paul Simovic, Architect and Director, Kohn Pedersen Fox Associates (KFP).