Press release
29/01/2014 07:40 CET
Kent and Medway Partnership Trust employees, members from Kent County Council, residents and health workers from across the county recently came together to kick-start a new push for energy savings at Kent and Medway Partnership Trust (KMPT).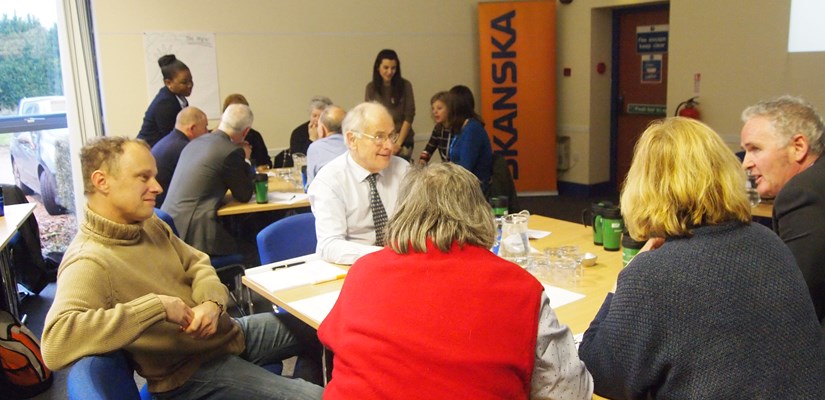 This energy saving programme is unique in that it will take the best ideas from the hospital community – employees and people who actually use the Trust – and turn them into simple actions that everyone can take. KMPT's green campaign is supported by Skanska and environmental charity Global Action Plan (GAP).
Kent and Medway Partnership Trust has committed to reducing its carbon emissions by 25% and their gas and electricity consumption by 23%. The KMPT campaign is based on a similar successful programme which saved Barts Health NHS Trust in London £100,000 on their energy bills by encouraging staff to take three simple actions: turn off equipment when not in use, switch off lights, and close doors in the hospital.
Katie Wheeler, KMPT Green Champion said: "I am very excited to be part of KMPT at this time as it is taking great steps towards sustainability. I believe that it is more important than ever that organisations are responsible, ethical and eco friendly, and Healthcare should be at the forefront of this. Not only will this new programme reduce our carbon footprint and provide new opportunities, but it will also save money that can be better used to improve care provision."
Angela McNab, CEO of Kent and Medway Partnership Trust said: "It's great that so many people across the Kent community are involved in helping the Trust save energy. The more money we can save on our gas and electricity bills, the better it is for the Trust. But, we also want to make sure the Trust is doing its bit to protect the environment."
About KMPT
Kent and Medway NHS and Social Care Partnership Trust (KMPT) provides mental health, learning disability, substance misuse and other specialist services for 1.6 million people across Kent and Medway.
KMPT was formed on 1 April 2006 after East Kent NHS and Social Care Partnership Trust and West Kent NHS and Social Care Trust merged.
About Global Action Plan
Global Action Plan is an award-winning environmental charity providing the UK's only environmental behaviour change projects endorsed by the United Nations Environment Programme (UNEP). Since 1993, we've helped over 750,000 people make practical changes that create environmental savings in businesses of all sizes, as well as communities, schools and with young people.