Press release
24/01/2014 08:41 CET
Skanska Balfour Beatty Recognised at Highways Agency Supplier Awards for 'Delivering Sustainable Value'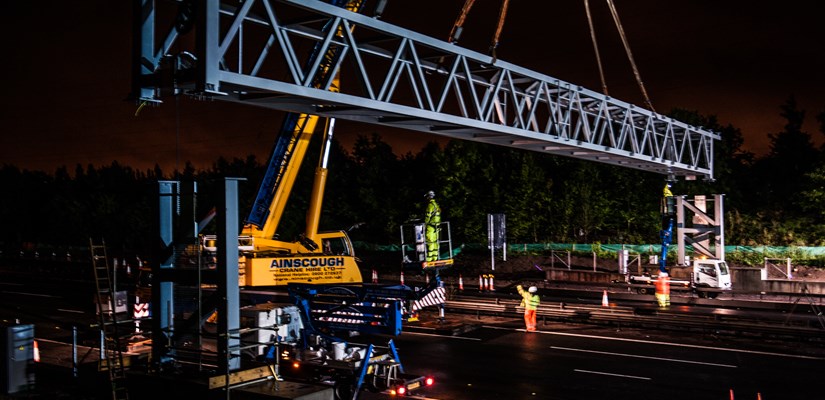 The Skanska Balfour Beatty joint venture which is currently upgrading two sections of the M25 in Hertfordshire and Kent to Highways Agency Smart Motorways valued at £321 million, has been recognised as a leading supplier by its customer.
At the Highways Agency's third annual supplier event, held in Birmingham, Skanska Balfour Beatty's contribution to delivering sustainable value and solutions was highlighted.
During the construction of the M25 Widening Projects between junctions 16-23 and 27-30 of the M25, Skanska Balfour Beatty used king sheet piles which were 100% recycled. It also reduced the quantity of piling required by a significant amount, reducing carbon emissions on the project overall by 44,000 tonnes.
Additionally, 92 per cent of aggregate used was either recycled or from a secondary source, which reduced combined energy and transport emissions by an estimated 35,000 tonnes compared with primary aggregate.
The project also managed to save around 400,000 tonnes of asphalt by matching existing construction rather than creating completely new surfaces. This method saved approximately 25,000 tonnes of carbon emissions.
Graham Dalton, Chief Executive of the Highways Agency, said: "It's been another successful year for our supplier recognition scheme. Yet again, large numbers of our suppliers – who are so fundamental to our business – have shown the type of innovation that will help us to be recognised as the world's leading road operator.
"We'll be looking to our supply chain to show more of this kind of good work to support the Highways Agency's journey as we significantly increase investment and customer service."
Kieran McGibbon, Skanska Balfour Beatty Engineering Director, said: "We are delighted to be recognised for our achievements in delivering sustainable value for our customer, the Highways Agency. These awards recognise the culture of innovation and collaboration in place on our project and with our supply chain and we are looking forward to delivering a first-class project to our customer."