Press release
06/12/2012 11:00 CET
On 5 December principal contractor on the M25 DBFO Improvement Scheme Skanska Balfour Beatty Joint Venture (SBBJV) presented Hertfordshire and Essex Air Ambulance with £20,000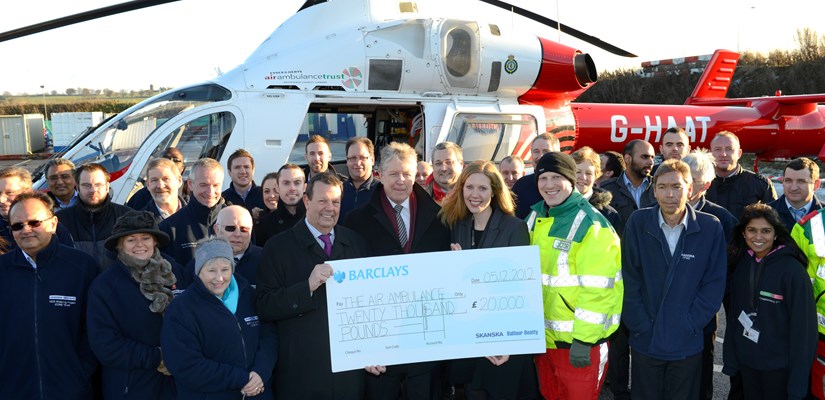 Money donated through staff fundraising will contribute towards the maintenance of the Air Ambulance's fast and effective response to emergencies across their area including the M25.
SBBJV worked closely with the charity to ensure a seamless and rapid response to any potential incident within the recently completed widening works between junctions 16 to 23 and junctions 27 to 30, and the refurbishment of the Hatfield Tunnel on the A1(M).
Helena Morgan, Essex and Herts Air Ambulance Trust Fundraising Manager said:
"We are extremely grateful to Skanska Balfour Beatty and everyone involved in the M25 widening project for their very generous donation. Support like this is vital to keep the life-saving helicopters flying to the critically ill and injured in your region. Without direct government or National Lottery funding, the charity relies on the support of businesses and the public to raise the £380,000 needed every month to remain operational."
The widening construction works naturally required a stringent safety strategy due to the close proximity of road workers, plant and site vehicles to the live network within the limited space of the hard shoulder. Thanks to effective controls and careful risk management procedures SBBJV achieved two-million man hours without a reportable accident shortly after the works completed in summer 2012. This donation marks the achievement of this significant milestone.
Skanska Balfour Beatty's Managing Director David Blackburn commented:
"We're delighted to be able to help support such a worthy cause. The work that the Air Ambulance undertakes is one of a kind and we hope that the money we have donated today helps the charity in its endeavour to provide a life-saving service."
Throughout the improvement works, undertaken on behalf of the Highways Agency and Connect Plus, construction teams worked to minimise the impact of the works on local communities, keeping delays to a minimum and protecting the environment whilst prioritising the safety of road workers and the public.
Connect Plus Chief Executive Officer Tim Jones added:
"As managers of the M25 and its key arterial routes, close liaison with the Air Ambulance is essential to the quick recovery of accidents on the network. This was of particular importance when delivering the M25 improvement works given the proximity of live traffic to construction works taking place on the hard shoulder and motorway verge."