Press release
18/10/2012 17:00 CET
The achievements of 20 young people were celebrated at the Young Builder of the Year Awards.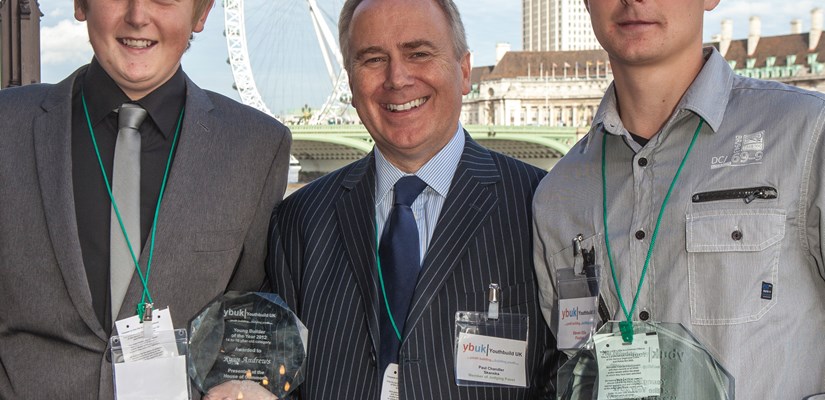 On 18 October – at the House of Commons, London – the ceremony recognised the success of youngsters who have overcome personal barriers to achieve qualifications and gain employment in the construction industry.
Judges from Skanska, UK Contractors Group (UKCG), Council and Industry Training Board – Construction Skills (CITB) and Civil Engineering Contractors Association (CECA) shortlisted 20 finalists in two categories:
In employment aged between 16 and 24 years old
Still in education aged between 14 and 16 years old
Steve Brown, captain of the Great Britain Wheelchair Rugby team, presented this year's awards.
Steven Ellis from PM Training, Stoke-on-Trent, won the 16-24 category. Despite leaving school with no qualifications, he has achieved a level 2 diploma in groundwork and landscaping.
Steven received £500 and a set of tools worth £1,000 to mark his achievement.
Ryan Andrews from Chelmsford, Essex Youthbuild, won the 14-16 category. He was commended for his determination and achievements towards level 1 qualification in developing brickwork, blockwork and carpentry skills.
Ryan received £250 and his training organisation, Essex Youthbuild, received a set of tools worth £500.
Runners up included Roxanne Grey (16-24 category) from Together Housing, Blackburn and Jak Anson Williams (14-16 category) from Flower Skills and Training, Charlton.
The Rt Hon Nick Raynsford MP, President of Youthbuild UK, said: "Unemployment among young people is one of the most serious challenges facing our society. That is why I am such a keen supporter of the Young Builder of the Year Awards which celebrate the achievements of young people who, even faced with poor prospects, have had to overcome huge barriers to train and work in the construction industry."
Paul Chandler, Executive Vice President, Skanska and a member of the judging panel, commented: "These awards are the end result of years of determination from young people who – against the odds – decided they wanted to improve their lives.
"With so many career options available in the industry, it gives youngsters a chance to overcome the challenges life has thrown at them."
Links