Press release
06/06/2013 15:00 CET
Fifty metres of track has been removed and thirty metres of new plates laid by leading development and construction company Skanska UK, on behalf of Network Rail, as part of a £6billion programme to improve rail services through London Bridge Station.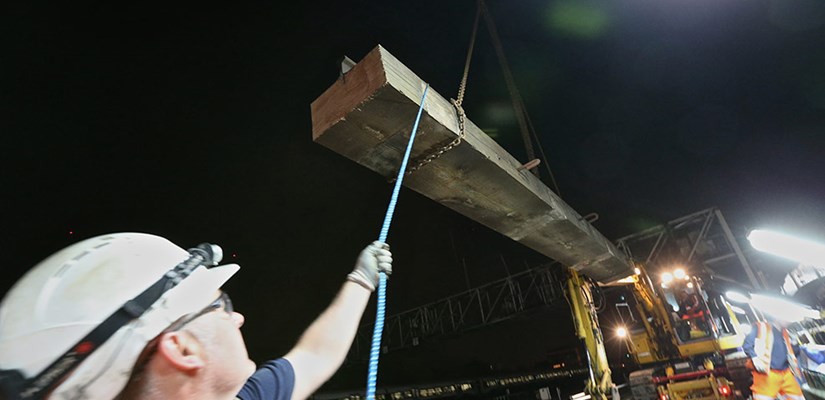 Crucifix Lane and Barnham Street were closed for 81 hours while Skanska carried out works to strengthen the existing rail bridge at the throat of London Bridge Station.

As part of the day-night operation, which involved 80 crew working under floodlights, track was removed by crane and the existing deck was overplated with new deck plate. It involved working in a narrow corridor over an existing structure with a fragile deck that dictated complex and coordinated lifting regime with Road Rail Plant working with a mobile crane sited at ground level.

The existing bridge layout consisted of track on wheel timbers. As part of the Thameslink Programme track realignment the bridge deck is to be ballasted which necessitated the strengthening work over the weekend.

It's all part of work Skanska is carrying out for Network Rail on the Bermondsey dive-under grade separation and the Structures Strengthening Programme, both key components of the final phase of the £6bn Thameslink programme.

Skanska project director, Susan Fitzpatrick, said:

"This is a technically complex project and it takes a huge amount of planning to get it right.

"We worked closely with Network Rail to make sure that we could time our works to coincide with the possession order for the bank holiday weekend.

"We also engaged closely with the community to prevent disruption to local residents. Even the weather can play a part in this kind of work, so we are delighted that we achieved what we needed to and everything was back to normal Tuesday morning."

The dive-under consists of 11 new inter-connected structures along the line of existing operational rail viaducts. The new junction on the eastern approach to London Bridge Station and the refurbishment of existing lines will allow Thameslink Sussex lines to cross Kent lines unimpeded on their approach to the station.

Skanska is also carrying out Structure Strengthening work to a number of bridge structures along the route of the track realignment.

Network Rail programme manager Andy Jenkins said:

"It was important from a team momentum perspective that we successfully delivered the first of the 32 rail bridges that need strengthening as part of Thameslink's KO2 programme. The success was further compounded by being achieved with no accidents, incidents or environmental complaints".