Press release
30/11/2011 09:20 CET
Skanska has officially marked the opening of its new Midlands office in Birmingham, with a ceremony officiated by Executive Vice President Paul Chandler and Leader of Birmingham City Council, Mike Whitby.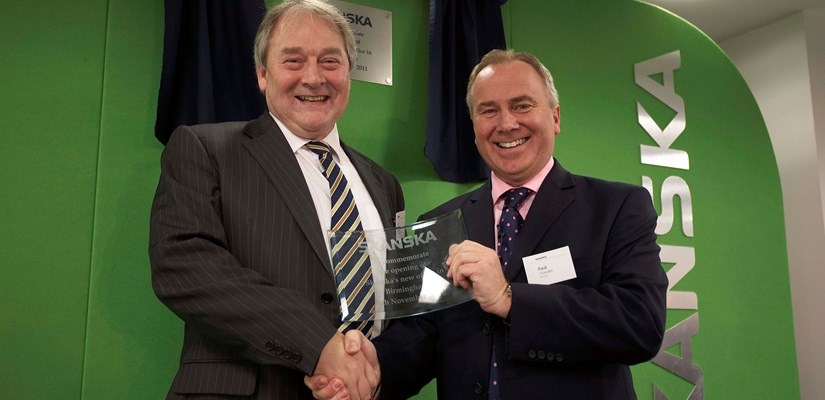 The event took place at the company's new office in Colmore Row, near Snow Hill Station on the evening of Monday 28th November. Guests included representatives from the commercial development market, members of the consulting professions and other advisors, many of whom have worked with Skanska over recent years whilst the company has been undertaking a
number of schemes in the Midlands across the healthcare, custodial and defence sectors.
The decision to establish a base in the Midlands is in response to the company's business plan in which it set out a commitment to increase its regional presence where it can offer skills, experience and solutions, "the Skanska way" to the benefit of its clients. This includes combining its extensive in-house skills and experience in a "one Skanska" approach to deliver complete solutions to its clients.
During his speech, Paul Chandler said "We have a wealth of experience of working in the Midlands area, predominantly in the public sector. There are a number of potential private sector opportunities in this region and we know the in-house skills and experience we have built up, particularly in the London commercial market, places us in a good position to successfully deliver projects in other UK locations.
"To do this it is important that we understand the market and our clients. The opening of our Birmingham office is our commitment to the area and will enable us to develop long term relationships".
Leader of Birmingham City Council, Mike Whitby, commented: "Skanska's decision to open an office in Birmingham is testimony to the city's drive to provide the property industry with clarity on the opportunities available for development over the next 20 years, through its Big City Plan.
By engaging with the industry and demonstrating how the city's attributes - such as its transport network, skilled workforce and supportive business community will help them achieve real growth – we have attracted one of the world's leading construction and development groups to Birmingham. We look forward to working with the team at Skanska to develop their presence
in Birmingham."
Business Birmingham, the city's inward investment programme, provided support to Skanska to help the company locate its UK hub in Birmingham. Wouter Schuitemaker, Investment Director at Business Birmingham, said: "Business Birmingham has worked closely with Skanska to help
the business identify the immediate and long-term opportunities having a base in Birmingham could offer. Skanska's decision to locate in Birmingham will not go unnoticed by its suppliers and the wider property sector and will send a clear message that the city has the opportunities, investment and business attributes needed to help companies in this area to grow.