Press release
11/11/2013 08:44 CET
Homes by Skanska received a royal visit on Friday 8 November when Crown Princess Victoria and Prince Daniel of Sweden called in as part of trade visit to the UK.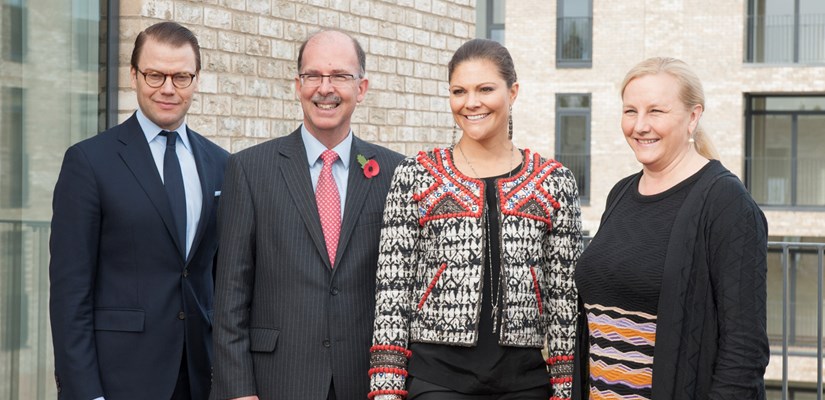 The royal couple were joined by the Swedish Minister for Trade, the Swedish Ambassador to the UK, and the British Ambassador to Sweden, for a grand tour of Seven Acres in Trumpington – a multi-award-winning development by Swedish construction and development company, Skanska.
The high-profile contingent spent over an hour at the development exploring both the show home and the outdoor spaces – which include allotments and a village green.
Suzanne Aplin, sales and marketing director for Homes by Skanska, said; "The Crown Princess and Prince were at Buckingham Palace less than 24 hours before visiting our homes so we had a lot to live up to!
"I think it was fascinating for the group to see how we had successfully incorporated Swedish design principles into homes built for a British market. More than that, it was a chance for leading figures from the Nordics to see first hand how a Swedish company is truly pioneering sustainable living in the UK.
"Earlier this year, Seven Acres was commended as one of only five new-build schemes to meet the government's Building for Life criteria, which was a huge accolade for the scheme and for Skanska. It has received a great deal of national and international attention since – although this is our first visit by a royal."
Seven Acres has always had a focus on sustainability, with each of the 128 homes meeting at least level 4 of the Code for Sustainable Homes.
Along with the latest in energy-efficient technologies, the homes also have contemporary Scandinavian style at the heart of the design.
Suzanne said; "Everyone who visits Seven Acres comments on how light and airy the homes feel – and today's party were no different. It is hard not to fall in love with the homes – even if you live in a palace, apparently."
The visit to Seven Acres kicked off a day of meetings in Cambridge for the Swedish delegation, including a visit to Cambridge University and a presentation from the Cambridge Conservation Initiative.
For more information on Homes by Skanska click here.
There are now just 3 apartments left for sale with prices starting from £275,500.