Press release
18/06/2014 15:20 CET
Big Green Week provided the backdrop, while Low Carbon South West and Skanska supplied the thought-provoking content for the Building Sustainable Cities panel discussion held in Bristol this week.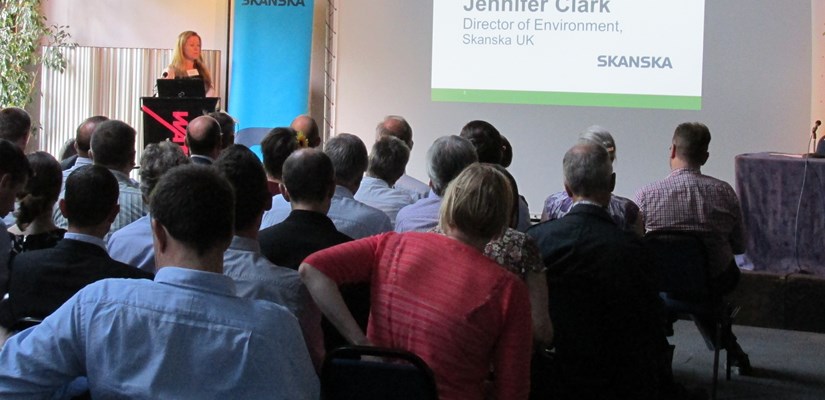 The event – a highly interactive discussion about the ambitions of the south west of England to deliver a more sustainable future – attracted an audience of around 100 delegates from across the region, from a range of organisations. Attendees included stakeholders from education, utilities, healthcare, local government and finance.
Jennifer Clark, Skanska's Director of Environment, shared her views on how collaboration supports sustainability, before taking part in the debate alongside James Durie, Director of Business West, Jo Davis, Director of Planning, Development and Regeneration at GVA Worldwide, Matthew Cross, Head of Investment at Invest Bristol and Bath, Craig White, White Design Founding Director, and Chris Fry, Director, Temple Group.
Amy Robinson, Network Director at Low Carbon South West, summarised and closed the session following an inspiring look at some of the ways to deliver a sustainable future, for the region and beyond.
"She commented: "Skanska's approach to sustainable construction is a great fit with the work and aspirations of the region, and we were really pleased that such a great range of sustainability experts and enthusiasts joined us to discuss how we make Bristol, and cities like it, truly sustainable. We're keen to use Bristol's position as European Green Capital in 2015 as a catalyst to promote sustainability to the region and further afield."
Jennifer Clark added: "We're pleased to be working collaboratively with many organisations in the south west to help them to realise their sustainability goals. This panel discussion enabled us to find out more about the topics which concern local people and to offer our ideas.
"It has been a very positive experience working with Low Carbon South West to bring together all these organisations and to share knowledge about the region. Buy-in from key stakeholders can only help the region to achieve its ambitious environmental targets."