Press release
19/07/2013 07:30 CET
The landmark new Brent Civic Centre, built by main contractor Skanska in the north London borough of Brent, has received a commendation at the Structural Steel Design Awards 2013.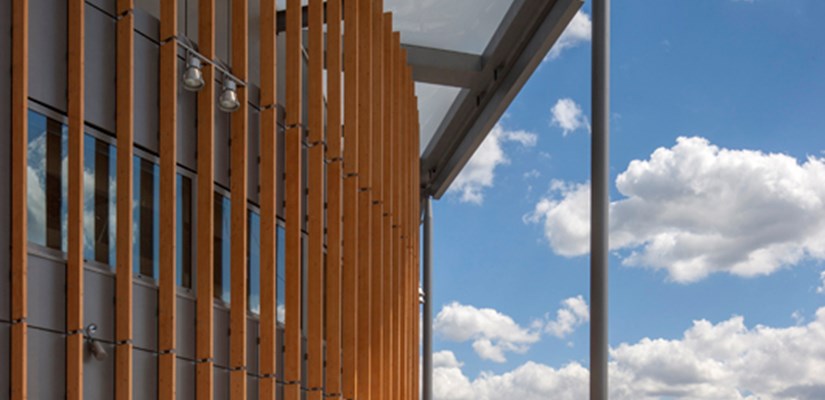 Designed by Hopkins Architects, the complex project involved the construction of two separate nine-storey steel structures, an L-shaped office block to accommodate over 2,000 employees, and the main drum-shaped civic building. Both are connected by a steel-framed glass-fronted atrium, occupying the full height of the structure.
Around 900 tonnes of structural steel was used in the construction process and is prominent in the building's overall structural and architectural scheme. Finishing had to be of a high specification, as areas of the building will be used for civil ceremonies and events.
Judges said they were particularly impressed with a number of elements, "The steelwork throughout the atrium supports the ETFE (Ethylene TetraFluoroEthylene) roof structure, glazed walls, exposed glass lifts and connecting bridges, provides light, elegant and immaculately detailed areas." They added: "Steelwork is key to this impressive civic space."
John Crawley, operations director at Skanska, commented:"The team worked together on this complex project at every stage of the construction process. This joined-up approach has produced a building that is set to become the greenest of its kind in the UK, something the team can all be proud of for years to come."
During the design process, the team used accurate scheduling for the steel components, which reduced cost, waste, time, energy and materials. The transportation of the steelwork was minimised through strategic deliveries, reducing the project's environmental impact.
Erection of the steel frame commenced in March 2012 and was completed seven months later in October.
The project team included Brent Council as client, Skanska as design and build contractor, Bourne Construction Engineering Ltd as steel contractor, Hopkins Architects, URS for town planning, engineering design, environmental and sustainability services, including the BREEAM assessment, and Turner & Townsend as quantity surveyor and project manager.
The Structural Steel Design Awards are sponsored by the British Constructional Steelwork Association and Tata Steel and recognise the high standards of structural and architectural design attainable in the use of steel and its potential in terms of efficiency, cost effectiveness, aesthetics and innovation.
The awards are open to steel-based structures in the United Kingdom or overseas that have been built by UK or Irish steelwork contractors using steel predominantly sourced from Tata Steel.